Happy National Ice Cream Month! According to the International Dairy Foods Association (IDFA), President Ronald Reagan in 1984 designated July as National Ice Cream Month and the third Sunday of the month as National Ice Cream Day.
The third Sunday of July in 2021 is July 18, which also happens to be my birthday. In honor of two such special occasions falling on the same day this year, here's a quick list of random ice cream facts you never knew you wanted.
1. Texas and Canada hold Guinness World Records for giant ice cream sundaes
Back in my dairy princess days, my favorite (albeit messiest) promotion activity was the giant ice cream sundae we'd serve at county fairs. We'd sanitize a kiddie pool, stack five or six 3-gallon vanilla ice cream tubs inside, pour a couple of large cans of chocolate syrup and cherries, and spray the whole thing down with a few cans of whipped cream for good measure.
According to Guinness World Records, the largest ice cream sundae weighed 54,917 pounds and was made July 24, 1988, by Palm Dairies Ltd. in Edmonton, Alberta, Canada. The longest ice cream sundae on record was 4,549 feet, made March 24, 2018, at the Spirit of Texas Festival in College Station, Texas. Thanks to some 4,000 festival attendees, the sundae – made of 500 gallons of ice cream, 300 gallons of chocolate and strawberry syrup, 2,000 cans of whipped cream, 25 pounds of sprinkles and 20,000 cherries – was made and consumed within 30 minutes.
2. Vanilla continues to reign supreme in America's top ice cream flavors
Americans' top 10 favorite ice cream flavors, via IDFA 2017 survey data, are: vanilla, chocolate, cookies 'n' cream, mint chocolate chip, chocolate chip cookie dough, butter pecan, cookie dough, strawberry, moose tracks and Neapolitan.
Vanilla continues to top these top flavor charts year after year because it's so versatile.
3. George Washington loved ice cream
When he wasn't busy being the first U.S. president, George Washington was a big fan of making and eating ice cream. In order to make it, he would have to cut ice from a frozen river and store it until milk and cream became available from dairy cows in the spring (according to NPR). He and Martha enjoyed serving it often to guests, and he even purchased several pots and serving plates specifically for ice cream (via Journal of the American Revolution).
4. It's possible to cure brain freeze
Harvard researchers found that brain freeze, or an ice cream headache, occurs when something extremely cold hits the roof of your mouth. To help cure brain freeze quickly, try drinking warm water, pushing your tongue to the roof of your mouth to warm it up or covering your mouth and nose with your hands and breathing quickly to increase the flow of warm air to your mouth.
5. Taste testers are important
In the 1990s, John Harrison, the head test taster at Dreyer's Ice Cream, had his tongue insured by the company for $1 million. He was profiled by the Los Angeles Times at the time and shared his process for testing. He would chop open a carton, check to make sure the ingredients were evenly distributed and then roll a sample across his tongue to check for consistency, texture and flavor. Then he'd spit it out, noting that this was a drawback to his job.
I can't imagine the willpower it took. I paid for rent in college by scooping ice cream at the Penn State Creamery. Even after working football game days and scooping straight for two or three hours, I'd still want to enjoy my break with a scoop of Death by Chocolate (chocolate ice cream with chocolate flakes, fudge pieces and chocolate swirl) or Alumni Swirl (vanilla ice cream with Swiss mocha chips and blueberry swirl).
So there you have it. I hope these random tidbits have inspired you to consume ice cream this month, but especially on July 18 for my birthday – I mean National Ice Cream Day.
References omitted but are available upon request. Click here to email an editor.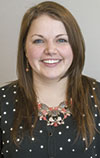 Emily Gwin

Editor
Progressive Dairy