In early May, I received a text from an unknown number stating they had my name down as a head coach for our girls' city softball league at the younger level, but they really needed a coach for the older girls and was wondering if I'd be willing.
Wait, just a minute, I thought. I never offered my name as a coach for either age group. How am I suddenly in this position?
My own softball career lasted only a few years, and 30 years have passed since then. Recently, I've logged a couple of years as a softball mom, driving to practices and cheering at games, but I know next to nothing about teaching anyone how to play the game.
At the same time, I'm aware that these programs in small towns like ours cannot exist without volunteers.
So I said yes – and went out to buy myself a softball glove. Within a week filled with tryouts, team selection and our first practice, I realized the role had a lot more to do with managing people than it did the sport itself. Here are a few things I am finding that work to my advantage and could be applied to almost any leadership role.
Surround yourself with knowledgeable people and let them help. A previous coach at the tryouts mentioned to me that it is good if you have players whose parents are willing to help. That was evident at my first practice when three parents jumped right in to work with pitchers and in the batting cage. They offered to lead fielding drills, and I let them. A leader has to make sure the work gets done, but that doesn't mean they have to do it all themselves. Find the people around you who can help, and don't be afraid to delegate.


Good personality is a determining trait. As all four coaches worked to evenly split the girls into four teams, when everything else was equal I opted for a player with a great personality. I was interested in those who got along well with others, had an energizing spirit and were open-minded. I didn't want drama or divas. I wanted a team that would be willing to take any assignment given and make the best of it. I realize you probably don't have 40 people trying out for the next position at your dairy, but if you have the chance to pick from a few, pay attention to personality and how they get along with others.


Provide positive feedback. Due to local restrictions, we didn't have a softball program last year. The effects were evident with fewer players registered this season. If I want the best for this program, I need to make sure my players leave each game happy – win or lose. One of the best things I can do as a coach is to highlight their best contributions to the team. At the end of each game, I find each player as they are gathering up their equipment and let them know something they specifically did well that night. Just think of how your team's performance would be impacted if each person was regularly told what they are doing well.
I may not be able to teach my team a lot about softball, and it's too soon to tell if we'll have a winning season or not. As a coach, I'm at least hoping I can impart to them some confidence and what it means to be a good team player – skills that have a reach far beyond the local ball diamond.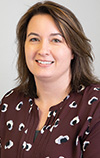 Karen Lee

Editor
Progressive Dairy