Who could have imagined a June Dairy Month where there weren't Breakfast on the Farm events? Where farm tours and dairy camps and giant ice cream sundaes were canceled or postponed?
It may look a lot different this year, but let's not allow it to dampen our enthusiasm. Now, perhaps more than ever before, consumers are listening. Milk flew off store shelves at the beginning of quarantine, leading stores to place purchase limits. Meanwhile, processing facilities and distribution lines struggled to switch gears quick enough to fill the gaps, and many farmers across the country had to dump their milk. While it certainly wasn't good news, it was national news. Consumers were confused and outraged on behalf of farmers. It might not last long but, for now, we have their attention.
Back in January, I had the idea for our 2020 June Dairy Month issue to have a focus on health and nutrition. Right now, I'm thanking my lucky stars for the inspiration because I'm not sure how we would have been able to fill this issue with our traditional coverage.
Talking nutrition with consumers may not be in your wheelhouse, and that's OK. But when our team started pulling together ideas for this section, we wanted to equip our readers with talking points – ways to connect with consumers based on things that interest them.
Tara Vander Dussen (known online as "New Mexico Milkmaid") presents "Busting the top 6 myths about serving milk to children", like "Isn't milk tied to early puberty?" Emily Shaw of Dairy Girl Fitness explains what a macro is and where dairy fits in "The importance of macros and where dairy fis in".
Wisconsin dairy farmer and CrossFit enthusiast Morgan Kliebenstein gives us seven dairy-friendly swaps for favorite snacks read "Eat this, not that: 7 dairy-packed and nutritious alternatives to up your snackign game".
Out of a California presentation from earlier this year the article "What you should know about alternative meats ", we cover the basics on alternative meats and why a beef burger is still your best bet. If you have a friend who's always talking about getting their steps in, they might be interested to read California dairyman Stephen Weststeyn's account from a typical week "A week logging physical activity from a dairy farmer". You don't need to be a social media influencer. You don't need to be a fitness expert. You just need to be willing to have a conversation with someone you already know about why consuming dairy is good for their health and for supporting their local farmer (you).
And for a little fun, we've included – as we do every year – favorite recipes from our staff and farmer bloggers "June Dairy Month Recipes". We've also taken our cheese advent calendar from the Christmas season and given it a June Dairy Month spin, highlighting 30 days' worth of favorite ice cream flavors from creameries across the country. (See June Dairy Month Ice Cream Calendar.) Because after all, what good is a healthy lifestyle if you can't treat yourself every once in a while?
If you have unique ways of celebrating June Dairy Month, especially this year, we'd love to hear about it! Email Emily.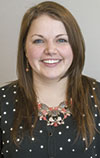 Emily Gwin

Editor
Progressive Dairy