During the coronavirus pandemic and stay-at-home order, my dad had no shortage of help on his dairy. Most of my siblings traveled home to the farm to shelter in place with my parents. My dad went from having one helper to four in a single weekend.
With all the extra hands, my dad was able to get caught up on ground work, planting, rainy-day projects and some farm improvements. One such farm improvement was reroofing his north heifer lot shed. It is old, and termites had got in the roof. So the heifer shed got a remodel.
As your dairy grows, your barns or pens may begin to show signs of age. The older buildings may no longer be efficient, look worn down or no longer meet your farm's needs. When this time comes, you have to decide what to do to ensure your buildings or pens remain functional and useful. Then comes the decision to renovate, remodel or rebuild. Many people are unaware of the differences between these options and how to tell what the right option for them is.
A renovation involves restoring the building to a good state of repair. This is the least invasive option and typically involves making smaller fixes to a building that help repair distress and improve the visual appearance of the building.
Remodeling involves changing the structure or the layout. This means walls or boundaries are moved or the structure of the space changes. If your building was originally designed for a smaller group of animals, remodeling can create more space and room by adding on to the structure.
Rebuilding involves removing the existing building and constructing a new one from scratch. It is the most costly and invasive option but is typically the best option if renovating or remodeling cost more than rebuilding the building. Additionally, if a building is no longer deemed structurally safe or sound, removing the building may be the best choice. Lastly, rebuilding is perfect for those who want to change everything about the building.
Farm improvement is what drives producers' decisions to make these changes and continue to innovate in their sustainable farming practices. These big or small changes to farms are what make the most environmental and financial difference because the comfort of cows goes a long way in the efficiencies and conservation of natural resources. In this issue of Progressive Dairy we recognize the 2020 sustainability award winners, read (Even in a virtual world, the results of dairy sustainability are real).
Take a moment to reflect on all the big or small improvements you have made on your farm in the last year. Pause and think about the innovations you have made to equipment and products. Maybe you didn't win a notable award or were publicly recognized but, with this in mind, know that it takes everyone working together to make the overall advances our dairy industry has made as a whole. Thanks to innovative dairy farming practices, the environmental impact of producing a gallon of milk today involves 30% less water, 21% less land, 21% less manure and a 19% smaller carbon footprint than it did in 2007. All the little improvements and changes add up to these big accomplishments.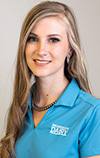 Audrey Schmitz

Editor
Progressive Dairy