I wrote earlier this year about selecting "joy" as my one word for the year, based on the concept from the book My One Word. I'll follow the example Editor Peggy Coffeen set in 2017 and provide an update on how it's going. In short, not great.
I had high hopes when I wrote that editorial about how I'd choose joy in tough situations. I envisioned myself being more positive and more hopeful. I'd worry less and rely on God's plan. Part of the reason I chose that word was because that's pretty much how my husband – an eternal optimist – reacts in such situations. He always manages to find the silver lining – or at least come up with a cliché saying most people find endearing. (I do too – most of the time.)
But I found that difficult each time my brother experienced more setbacks this year despite a successful stem cell transplant. And it was hard to find the joy when we learned of someone about his age who passed away from cancer just a few weeks ago.
What I've learned over this past year is: Choosing joy doesn't necessarily mean staying positive and upbeat in the face of troubling news or a challenging situation. It's great if you're like my husband and have that ability. But for me, choosing joy this year meant celebrating life's happy moments wholeheartedly when they came along.
Like when our daughter, Violet, took her first steps in August. Or when a couple close to us announced they were expecting their first child after many years of trying to conceive. In those moments, I let go of the worry and anxiety. I embraced that moment – that opportunity for joy – and relished in it. I cried the happy tears. I giggled and danced and clapped.
The goodwill feature stories are good examples of people who were able to find joy despite tragic circumstances. For the Janssen family, the joy came from remembering daughter Alaina's trip to Vir-Clar Farm before she passed. (Vir-Clar Farm grants diary tour wish to 11-year-old with bone cancer).
For Joel Neidermire, it's doing a burnout each year in his late brother's truck (Neidermire carries on brother's farming legacy).
The Briels lost a father and son in a silo accident, but the farming community came together to offer support. Through the auction to disperse their herd, a calf was donated back and resold 10 times during the sale, and sold another four times after the sale, finally making its way back to Erika Briel (Wisconsin family celebrates kindness of dairy community after unthinkable tragedy). I have no doubt just looking at the calf brings the family comfort and hope.
In previous editorials, I've encouraged you (and myself) to find the joy – or to create it for yourself when you're in a tough situation. But this year has taught me it's not always that simple. So instead, my advice to all of us this Christmas season and into the new year is to embrace the joy when it comes along.
Let go of the fear, the worry, the anxiety, even if it's just for a brief period. Grab on to the happiness, to the laughter, to the cheer. Let it refresh you. It just may be enough to get you through the next hard spell.
On behalf of all of us at Progressive Dairyman, I wish you a joy-filled Christmas and a blessed new year.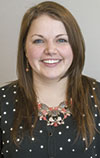 Emily Gwin

Editor
Progressive Dairyman