If you tuned into a news station or scrolled through social media over the past 12 months, odds are it didn't brighten your day. Looking at the year in review, top headlines proclaimed political scandals, more mass shootings, horrific wildfires and just about anything to do with President Donald Trump.
This final issue of Progressive Dairyman for 2018 reviews the annual happenings of the dairy industry, including our most-viewed online articles for the year. The annual "Top 25" list reflects the news, current events and human-interest pieces that caught the greatest attention from our readers.
There are stories of new technologies, personal triumphs and tragic losses; emerging diseases, immigration and eliminated milk contracts; family farms, finances and falling prices. Some warm our hearts; others break them. A few have the undertone of uncertainty while others harbor a hint of hopefulness.
In other words, there's good news and bad news. But when I look at this list, I see more good than bad – more joy than sorrow. And that is by design.
Despite the difficulties facing the dairy community, you will find many stories right here that ignite a sense of joy by delivering research and innovations (Drying hay in a new way), offering perspective straight from the dairy farmer (5 tips for when your robot freezes) and sharing recommendations to make businesses more profitable (Successful habits of top farmers) or everyday farm life easier (Service tips to extend the life of utility tractors). There is joy to be found in knowledge, inspiration, advancement and ingenuity.
Joy. Above all else, that's what we hope you find each time you open up Progressive Dairyman. What you won't find here are click-bait headlines designed to drum up drama or capitalize on unfortunate circumstances. We choose not to hang our hats on tragedy but rather elevate the triumphant.
We can't change what the market reports say, but we can bring you information and strategies to deal with the downturns. Our dedication transcends far beyond putting words on a page. We hold a deeper responsibility to serve you by bringing you some good news.
Through the best and worst of times, we here are Progressive Dairyman want you to know we are by your side. We're waiting in your mailbox to brighten your day. We're at your kitchen table, on your desk, sitting in your inbox or riding shotgun in your pickup. Let these pages bring a smile to your face, enrich your mind, calm your fears, hold your coffee cup and soak up your tears. You can hang onto us, even when you feel like the rest of the world is slipping through your hands.
We want to impart a sense of joy by bringing you uplifting messages amid the negative chatter that all too often overwhelms the news cycle.
And during this Christmas season, let us not forget that a long, long time ago, the Lord chose a group of herdsmen on the night shift to receive the most spectacular news of all.
"And there were in the same country shepherds abiding in the field, keeping watch over their flock by night. And, lo, the angel of the Lord came upon them, and the glory of the Lord shone round about them: and they were sore afraid. And the angel said unto them, Fear not: for, behold, I bring you good tidings (news) of great joy, which shall be to all people." (Luke 2:8-10 KJV).
Let us all be reminded there is no greater news than the birth of our Savior and, in that, find everlasting comfort, peace, hope and joy.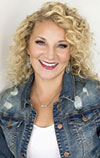 Peggy Coffeen

Editor
Progressive Dairyman