"Most people think they know what they are good at. They are usually wrong … and yet, a person can perform only from strength."
I came across these words from business guru Peter Decker inside Strengths Finder 2.0, the book that accompanied a strengths-finding activity our editorial team completed earlier this fall. I'd taken personality tests before and always found them interesting, but also fairly predictable. At this point in life, I know myself, my tendencies and my flaws. That said, I didn't have high expectations of learning anything new from this one. However, as the quote suggested, I was wrong.
After answering 70 or so survey questions, the Clifton StrengthsFinder Assessment ranks your results among 34 traits. According to my results, my "top 5" were as follows: restorative (find joy in problem solving), harmony (try to find common ground), input (enjoy archiving information), empathy (ability to sense others' emotions) and consistency (seek balance and stability). I looked at these descriptors with confusion. These weren't strengths at all; all I saw were weaknesses. I began to criticize myself for not being "enough" of what I felt were desirable strengths: discipline, achiever, futuristic and so on. But in that moment, I heard the soft voice of a dairyman named Bill Hageman play through my mind.
I didn't know Bill well. I knew he was a former Holstein breeder who had retired from farming but continued to work in the dairy business. The main interactions I had with him were friendly exchanges as he volunteered at Holstein shows to check in cattle and measure topline hair before entering the ring. In those brief chats, he always told me how much he liked to read my articles in the magazine. The last time I saw Bill was at an industry meeting four years ago, where he said hello and we exchanged comments about a speaker we had heard that afternoon. I'm embarrassed to admit it, but I recall making a criticizing remark about the speaker, to which Bill replied, "You know, God gave everybody different strengths; we are all different, and we are meant to use them in different ways."
He had so calmly and gently called me out on my criticism, in the tone a loving father would use. Yet, his words sunk into my heart and have stayed there ever since. A few short weeks after that conversation, I received the sorrowful news Bill had passed away. I learned more about his life and impact from reading his obituary, as it detailed his many successes as a dairyman. However, tucked into the text were these few lines that sent a little chill up my arms:
"The foundation of his life was his faith. Bill could always be counted on to provide a wise word of guidance. His desire to share that faith and help others was the driving force behind the 23 years he served in the jail ministry of Fond du Lac County, Gideons International and [Grace Reformed Church]."
In that moment, I realized Bill had shared his faith with me through his wise words and tender demeanor, reminding me to embrace others' strengths, but most importantly, my own. We had crossed paths one last time before he was called home not out of coincidence, but because he was delivering a message I didn't even know I needed to hear.
As I looked at my StrengthsFinder results, Bill's words came back. They reminded me my strengths are indeed gifts to be cherished – nurtured, polished and expressed – not belittled, tarnished and suppressed. And at that very minute, I decided to embrace my top five strengths and choose to see how they make me unique instead of funneling my time and energy toward wanting to be someone else. As a result, I feel a little less stress and a little more joy from living more authentically.
If you haven't taken a strengths assessment recently, there are many free options just a Google search away. Pick one. Take a good, hard look at the results, and open your eyes to what it reveals about your own strongest traits. When we use our strengths, we actually become stronger – regardless of what that strength may be.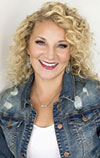 Peggy Coffeen

Editor
Progressive Dairy