If you listen to podcasts, you're going to be excited for this news. We now have a podcast available. Find it by searching for "Progressive Dairy" podcast on your favorite platform.
What is a podcast? I'd best describe a podcast as a series of digital audio files a user can download and listen to on-the-go. It's basically pre-recorded radio you can take with you wherever you are. However, podcasts are better than radio because you can pick the channel you want to hear based on the topics they discuss. You're in control of your content playlist with podcasts.
According to the best estimates around, there are more than 700,000 active podcasts. Just like there's an app for that, there's a podcast about just about everything.
Our podcast will cover everything dairy-related, just like your magazine does, including business management, feed and nutrition, genetics and repro, calf raising, transition cows, manure handling, etc.
I've been listening to podcasts for years now. I find they are a great complement to reading, and many of the new ideas I consume every day are heard through a podcast or audiobook while driving to and from work or while making dinner for my family. (Cooking is my creative outlet.)
I've written about it before here, but I'll say it again: Many of you have told us you feel guilty for not getting to read every word of every magazine. We take it as a compliment that you have that desire. But we recognize everyone's time is limited.
That's one of the primary reasons we are launching our podcast. We want to help you consume the content you know you want to read in that past issue of Progressive Dairy that slipped down beside your recliner when you drifted off to sleep last night or the most recent issue you left open on the kitchen table so you could continue reading when you come in for supper. Our podcast will include article summaries of content you find in the magazine here with takeaways for how the article might be applied on your farm. We'll also have interesting question-and-answer sessions with experts and other dairy producers like you.
We know it can be difficult to get off of the farm and hear about what others are doing. We want the podcast to make it easier for you to take a road trip without having to leave the productive work you're doing from the cab of your chopper or your pickup. And in the process, you get to know us – the Progressive Dairy editors – better too.
Download us and plug us into your speakers whenever you've got some windshield time. If you don't think you are tech-savvy enough to do any of that, just make sure you're subscribed to our weekly newsletter, and we'll alert you when new content is available. (You can subscribe to those at Progressive Dairy Subscribe) You will then be able to click to listen to the podcasts on your computer and don't have to worry about any downloads.
We plan to have new content every other week. (In podcasting lingo, we'll have a new episode that frequently.) I think you'll find the topics are evergreen and useful regardless of when you start listening to them. I'd recommend this year's harvest season as a good time to start.
Go to Progressive Dairy Podcasts to find quick links to subscribe to the podcast.
This summer, we've been researching podcast trends, so we're not doing this on a whim. Our research and advisory board members agree: Podcasting should make it more convenient to hear more of the forward-thinking content you expect from Progressive Dairy.
We invite you to join the nearly one-third of our online users who regularly (once a week or even every day) consume some of their media through earbuds or truck speakers. I think you'll find it informative and entertaining.
Of course, you're welcome to continue reading the magazine. We'll still send it 20 times per year.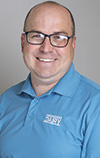 Walt Cooley

Editor-in-chief
Progressive Dairy