I've been struck with an odd realization this summer: I'm closer to having kids in 4-H and youth programs than I am to having been a participant myself.
When my husband and I took our young daughters to the local fair this year, we discovered the participants exhibiting now are the children of the exhibitors we grew up with. We reminisced about our time in the ring and talked about our hopes for our girls. We realize now how much work it is for the adults involved, but we look forward to the opportunity to provide our daughters with valuable life lessons and memories to last a lifetime.
My friend Callie Curley in eastern Pennsylvania recently wrote a lovely Facebook post on this topic. She wrote:
Everyone remembers the banner years, but that's not when you learn the important stuff.
Everyone remembers the grand champion, one-in-a-million, "wow, look at that cow" years, but that's not when you're setting the best example of sportsmanship for the 8-year-olds who are watching your every move. It's not when you're working the hardest or making the most valuable mistakes.
Watching my not-so-little cousins stand shoulder to shoulder in the middle of the pack – not in first and not in last, not with blue type ribbons but not with white ones either – makes my heart so happy and full. They've had banner years, and there are probably more in store, but these are the years where they'll learn what it's all about.
Between the big years, there are plain old years. Years where your grandpa guides you through clipping your first spring calf, only to get to the show and find out that styles had changed in the years since he'd first been on the circuit. Years where your dad decides to step back and let you handle the walking and washing and clipping and the blowing up of toplines, even though he could do it way better and way faster, and the ribbons you get will reflect your lack of experience. Years where you don't have the most stylish calf or the strongest cow. But all of that is OK. Because the banner years are great while you're in them, but those plain old years are what you'll look back on with a smile, or even a laugh, and be overwhelmed with the feeling of gratitude for having had the opportunity to grow and learn and earn your share of red ribbons along the way.
Your show career was never about the banner years anyhow. It's about the lessons learned, friendships built and memories made.
When we are young, experiences like showing cattle at the county fair are often the foundation from which a love for dairy is built. The first trip around the ring may open up the door for pursuing an agricultural education and even planning a career in the dairy industry. In fact, this issue includes a collection of stories about exceptional dairy youth and the programs that support them. You'll meet California dairyman Tony Lopes, who got his start in the Holstein Association's youth programs and is now a leader in a 4,000-cow operation. Read about, Wisconsin youth who've been awarded a calf through St. Croix County's Heritage Calf Project share what that honor has meant for their 4-H days and future careers. And also read, US Jersey Central Plains area representative Danielle Brown discusses what makes the Jersey Youth Academy unique and why she remains involved.
I'm sure any of the youth featured could share their "banner year" moments in various dairy activities. But I'm equally sure all of them would agree with my friend Callie's sentiment that the plain old years, where young people build their skills, confidence and knowledge, are what will serve as the foundation for them to pursue their career and schooling passions.
As for my young girls, we have a few more years of visiting friends at the fair before exhibiting ourselves, but I certainly look forward to not just the blue ribbons and accomplishments heading their way, but also the life lessons that will come in every color in between.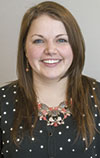 Emily Gwin

Editor
Progressive Dairy