In early October, I took time off from my regular occupation to help set up a fundraising event for my children's school. It is a Fall Festival that includes food, games, a cake walk, country market and live auction.
Traditionally, the event is held at the school with all its resources, but due to the times we're living through, we switched to an outdoor event at our city park. This change of venue required a lot of extra planning and troubleshooting. At one point in the afternoon, after setting up three 20-by-40-foot canopies in the rain, stringing up extension cords and lights, moving picnic tables, hauling supplies from the school and running to three different towns to collect food, I found myself lugging 60 pounds of ice through a convenience store and questioning why I was working this hard on my day off.
The answer is because I am passionate about education, and this was one of the ways I could support my children and their classmates on their educational journey.
This issue of Progressive Dairy is filled with people pursuing their passions in addition to their regular day jobs. They follow their beliefs and are willing to put in extra work to reach their goals.
For starters, Elle Purrier St. Pierre, featured on the cover and the article "Olympian and dairy farmer Elle Purrier St. Pierre", applies her farmer work ethic as a professional middle- and long-distance runner. She trains at a facility on the other side of the country and competes around the world, including the 2020 Tokyo Olympics. For Purrier St. Pierre, a day off means pursuing her other passion as a dairy farmer with her husband on his family's dairy in Vermont.
Not too far away, in Avon, New York, Emilie Mulligan farms with her parents and cousin. In addition to overseeing the farm's 2,700 head of cattle and helping manage the farm's employees, Mulligan hosts in-person and virtual farm tours for students of all ages. Her passion is transparency and presenting a positive image for the industry. Mulligan's story "Building trust in dairy with a modern farmer using modern farming practices".
Dr. Elizabeth Quesnell Kohtz, featured in "Balancing the hat rack", developed an interest for milk quality and dairy consultation early in her veterinary career. Pursuing her passion for preventative medicine and working closely with her dairy clients in Idaho qualified her to be named the 2020 Verified Premium Plus Vet of the Year.
Silage season is a favorite time of year for Nora Doelman, a trained diesel mechanic who started dairying with her husband, Nick, in 2011. She also enjoys raising and working alongside her three children on their farm in Washington. Read more about Doelman here "Washington's Nora Doelman is a diesel mechanic-turned dairy farmer".
While milking cows, Wisconsin dairy farmer Angie Feider was inspired to create a small business that shares a message of faith, hope and love. She finds this passion of creating unique leather pieces to be "therapeutic" and a way to "unwind" from her responsibilities on the farm. Read "Beyond Beloved: A farm girl's journey", and see how this business has grown to include faith-building gatherings for members of her community.
Lastly, in this issue, we revisit winners of the U.S. Dairy Sustainability Awards as the program celebrates its 10-year anniversary. In reading comments from award recipients "Past award recipients revisited", it is clear sustainability for them is more than a one-time recognition; it is a passion they embrace in all they do on their farms and in their communities.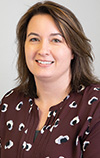 Karen Lee

Editor
Progressive Dairy