Everyone loves a superhero. Stories about seemingly ordinary people with superhuman powers are a crowd favorite, whether it's Superman, Batman or, most recently, Wonder Woman – which, according to Forbes, is the "fifth biggest superhero movie ever."
In fact, the heroine was 2017's most popular Halloween costume, beating out the creepy clown from It.
Hollywood depicts this character with a heavy-duty tiara, miniskirt and a pair of terribly impractical knee-high wedges, but I see Wonder Woman much differently.
In fact, I think she takes on many different forms within the pages of this very magazine. That's because this is our "Women in Dairying" issue, and it celebrates the women who contribute daily to the advancement of our industry.
Growing up, I had the true blessing of being surrounded by many "Wonder Women" of the dairy world. They were my 4-H leaders, dairy bowl coaches, neighbor ladies and friends' moms. I look back on these women with true admiration for being able to swoop in and do it all.
They were the kind who raised the healthiest calves and hardest-working kids; they milked cows, kept the books and managed to get their entire family into a church pew every Sunday morning. They didn't wear capes; they wore coveralls and co-op hats. They were masters at fighting scours and getting brown stains out of white pants.
They channeled their inner powers to lead meetings, stretch dollars and hold their families and farms together against the dark forces of the world. They were supernaturally strong, yet humble – and had no idea just how truly remarkable they were.
One of these Wonder Women in particular really inspired me. Her story began in the 1940s: Born the middle of five girls, raised by a widowed mother. A spark for the dairy cow grew in her at a young age, and when she graduated from high school in the 1960s, she chose a career path not common for a single young lady in those days.
Milking cows was her dream, so she bred her very own herd of registered Holsteins while also working in town and attending farm management classes.
She was one of the first in the area to be certified in A.I. breeding, with the help of her trusty 5-gallon pail flipped upside-down to boost her 5-foot-tall frame high enough to reach the cows. She taught herself to drive tractors and plant crops, which she sometimes did in the middle of the night to avoid ridicule from nay-sayers who mocked her efforts.
However, more people supported her than put her down. She went on to be the first woman in Wisconsin recognized as a finalist for the Jaycees Outstanding Young Farmer award … all as a single woman under the age of 35.
Becoming a wife and mother did not change her unwavering will to run the farm; instead, it reaffirmed her purpose to raise her family according to this way of life and pass the appreciation for it on to her children and grandchildren.
She can count on two hands how many milkings she missed for anything other than a hospital stay, and yet she managed to volunteer at school, shuttle kids to sports, 4-H and religion class – and always have a homemade baked good to offer.
Today, at 71 years young, she pushes past the pain of an aging body to live out the life she loves. She has yet to lose either her ambition or her eye for picking out a promising young heifer in the pen.
Some may call this woman a trailblazer, an inspiration or a pioneer in her field. But at the end of the day, I am honored to call her "Mom." So here's to my mother, Alice Carroll-Dierickx, and all of the other dairy Wonder Women out there doing it all.
They are breaking barriers and paving paths, whether it be in research like Dr. Barbara Wadsworth Jones (Dairy director has Texas-sized heart for women in research) or taking over a family farm like Cheryl Carson and Cammie Curtis (Sisters take over cow management at Aghaloma Farms).
No need to reach for a comic book to catch up on Wonder Woman's latest adventures. Just sit back and enjoy this issue of Progressive Dairyman.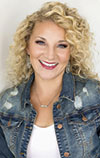 Peggy Coffeen

Editor
Progressive Dairyman