Our cover photo features the adorable doppelgänger daughter of Editor Audrey Schmitz. When Audrey and I were planning the cover image for this year's June Dairy Month issue, I knew I wanted to see yogurt as a key component. I Googled something along the lines of "first birthday photo shoot with yogurt."
I sent Audrey a photo of a toddler "painting" a canvas with different-colored yogurts. Audrey and our staff's ace photographer, Mike Dixon, collaborated to get the darling image you see. While I can't take any credit other than presenting the initial concept to them, I do think this is a good example of creative teamwork. While a cute kid with an ice cream cone has been an effective message for celebrating dairy on our covers for several years, I thought we could shake things up a bit.
In a similar way, two dairy farmers from the eastern U.S. outline ways the dairy industry can collaborate to "agvocate" more effectively. Pennsylvania dairy farmer Jessica Peters and Maryland dairy farmer Katie Dotterer-Pyle each have growing social media platforms and were featured presenters at the Dairy Strong Conference earlier this year. In their article "We need somebody (Help!) Not just anybody" see their suggestions for how allied industry can support their efforts online, including trading giveaway items for more useful gift cards and lending out video production resources. (And get ready to have a Beatles song stuck in your head for about a week.)
In her HERd management column "HERd management: Conservative agriculture is so 2018", Peters also explains why she thinks the dairy industry needs to become a little less conservative and a little more real. She shares that consumers want to be entertained, and those willing to promote their farms also ought to be willing to be sensational, emotional or funny with their posts.
For a dairy group in eastern Pennsylvania, thinking more progressively means going "old school" with print advertising. According to a January Farmshine article by Sherry Bunting (who also occasionally freelances for Progressive Dairyman), dairy farmer Nelson Troutman of Richland, Pennsylvania, came up with his own promotion idea to encourage whole milk consumption. He painted a wrapped round bale with the words "Drink local whole milk" and "97% fat free" last December.
Troutman said he understood that checkoff agencies' hands were tied because of existing government rules and label regulations about the fat percentage of milk. But there were a lot of consumer misconceptions about whole milk being unhealthy, and farmers – like him – who lived along busy roadways and intersections could help change that mindset with "baleboards" like his.
In just a short few months, 97Milk has become an organization of dairy farmers with a website (97milk), a social media presence and a mission to revitalize whole milk consumption. Baleboards have since popped up in other regions of Pennsylvania as well as four other states.
I'm sure you can think of many more examples in your area where you, your neighbors or your local or state promotion organization are thinking outside the box for June Dairy Month advocacy efforts this year. Feel free to share those efforts with us. And if not, I encourage you to spend a little time brainstorming about ways to get more creative with your June Dairy Month celebration and advocacy focus this summer.
Who knows? Your idea could launch a product line, start a viral movement or simply encourage a friend to switch to dairy instead of non-dairy alternatives. In this dairy economy, every little bit helps.
PHOTO: Pennsylvania dairyman Nelson Troutman is pictured here with baleboards he painted for other people in his shop at the farm in early March 2019. He has made at least 40 himself to promote whole milk consumption, and others are making their own. Photo by Sherry Bunting.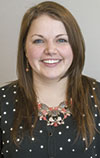 Emily Gwin

Editor
Progressive Dairyman