Living in the Midwest, I watch the weather a lot. Checking the forecast is a daily occurrence, at least. Some days, it's hourly or every 15 minutes as a storm approaches.
We know how much weather directly impacts agriculture, but I find there are also a lot of comparisons between the two trades in the adoption and use of technology.
The National Weather Service (NWS) combines science from the field with innovative technologies to improve its operations. In the last decade, advances in monitoring and forecasting have led to better information on hurricane tracking and intensity, lightning strikes, air quality warnings and more.
Just like agriculture has adopted drones, facial recognition, activity monitoring and automation from other industries, the NWS received radar technology from the U.S. Navy in 1942, after it was discovered the strange signals witnessed by the military were linked to precipitation events. Over the years, a new generation of radars was developed that could show the movement of precipitation and winds within the storm itself. Continual upgrades have yielded more information on the size, shape and amount of precipitation, as well as the ability to detect things like birds, bugs and tornado debris.
I recall when tornado warnings were only issued once an actual tornado or funnel cloud was spotted by a person. Now, velocity readings from radar can trigger warnings without waiting for a touchdown, enabling people to seek shelter earlier. Similarly, we've adapted the aforementioned technologies for use on farms for enhanced and earlier detection of animal health concerns and crop conditions.
Individual cow data and other farm information can be accessed via smartphones with alerts and notifications. You most likely have a weather app on your phone that does the same.
While I'm capable of watching the forecast on a regular basis, when severe weather strikes, I prefer to turn to the experts by watching live broadcasts from the local meteorologists. It's not much different than regularly monitoring herd data, then turning to your expert team of veterinarians, nutritionists, consultants, etc., to take a deeper dive and troubleshoot a specific scenario taking place on the farm.
An area where it seems the NWS is a step ahead of the technology available in agriculture is in the use of supercomputers. Two locations in the U.S. each hold two 40-foot rows of supercomputers working in tandem. The supercomputers have a combined processing power of 8.4 petaflops, which is more than 10,000 times faster than the average desktop computer. The computers collect observational data from satellites, weather balloons, buoys, radar and more. The combined data is used to produce forecasts and predict weather hazards all around the world.
We have so many ways to collect data on-farm but still lack the supercomputer to combine all the information in one place to put out forecasts, watches and warnings to enhance farm management. With agriculture's same devotion to using science from the field and innovative technologies, I believe this will be accomplished in time.
In this issue highlighting progressive technology, there are articles that showcase some of the technologies being developed to get us there, as well as suggestions on how to further utilize the technologies we already have available to us.
Keeping an eye out for storm clouds and emerging technologies is good practice, as you never know what might be coming your way.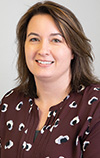 Karen Lee

Editor
Progressive Dairy