If you see me walking around the farm, and I don't hear you calling out my name, it's probably because I don't want to talk to you. Just kidding. It's mostly because I'm listening to one of my many podcasts.
Before I get into podcast recommendations, I want to throw out a word of caution for safety. I use open-ear, bone conduction headphones, so I can hear my surroundings while I'm working. My recommendation is the AfterShokz brand, and I like the Titanium or Air. If you're a lady, I would probably recommend the mini size of the Titanium.
But now, on to the purpose of this blog; here are my favorite podcasts.
History and government
Of all of the podcasts I've ever listened to, I love this one the most. This podcast is hosted and produced by Lillian Cunningham and a team at the Washington Post. They go through all the presidents and give you a history lesson about them. It's not always the most commonly known things either. They tried to find things most people don't know about the presidents. If you like Presidential, I recommend their other podcasts too – Constitutional and Moonrise. Constitutional is pretty self-explanatory, but Moonrise is all about the race to the moon.
Making you think
I will start out by saying I have an obsession with Malcolm Gladwell. I cannot get over how much his writing makes me think and pushes me outside of my comfort zone. His podcast, Revisionist History, does the same thing. I love hearing the stories in his own voice, too. This podcast is 100% worth listening to from the very beginning. It has honestly made me laugh, cry and think more than any other podcast.
Investigation
The Dream is another of my favorite podcasts. Period. The first season is all about pyramid schemes or multi-level marketing companies. If you're passionate about your social selling company, I would recommend you don't listen. Or maybe do listen and you'll never feel the same way about it again. The second season just started, and it's about the health and wellness industry. I always get excited when I see a new episode of The Dream in my newsfeed.
Economics
The Indicator by Planet Money is a daily, short episode. At eight to nine minutes in length, they are quick listens. They touch on all sorts of topics that revolve around economics, including agriculture. Their parent podcast, Planet Money, is really good too. It's a weekly podcast that's about 12-15 minutes and is about economics too. It might sound dry, but they're really interesting and educational.
For the nerds
If you're into geek culture and enjoy sci-fi, you need to check out Marvel's Wolverine. I don't normally like fiction podcasts. But, this podcast is so well done, and I binged it.
True crime
I listen to a lot of true crime podcasts. If you don't understand why anyone would want to do that, you can just skip this section. For those of you who get it, read on. It was really tough for me to narrow this down, but I did it for you. I really love In the Dark. It has two seasons and is gripping. Each season is based on a crime, but the team does so much more than just looking into what happened.
Agriculture
I don't listen to a lot of agriculture podcasts. Honestly, I do that for a reason. I like to learn and listen to all sorts of different things and go outside of my comfort zone. But, I do have a few on my feed. My favorite is What the Farm. Lesley Kelly and Rob Sharkey do an amazing job of talking to people from all walks of life. They have really unique stories, ask interesting questions and often they are our customers.
I hope you find a podcast or two that can brighten your day!
Editor's note: Did you know Progressive Dairy has a weekly podcast? Check it out here.
Graphic compiled by Ashley Messing-Kennedy using podcast logos.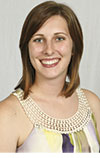 Ashley Messing-Kennedy

Dairy Producer
Bad Axe, Michigan