It's 7:45 a.m., and I am sitting on my couch uncomfortable and wondering how difficult it's going to be to get back up off the couch when I am done. Although I am only 36 weeks into my pregnancy, I only made it 35 weeks with my last, so this is like my 40 weeks.
We are very thankful to have made it this far because the worries and concerns we have about the baby are greatly diminished. Another positive about this pregnancy is that I was only off work for two weeks versus two months on complete bed rest with my last pregnancy.
For the past few days, I've been back out in the barn some, but I find I simply cannot do what I was doing when my doctors banned me from going to the barn. Even walking around too much is challenging, not to mention lifting something or trying to treat a sick calf.
Today's blog post is a big milk toast (or wine toast at the hospital depending on your taste) to all of you dairy moms still out there kicking butt and killing it each day. Your body is going through huge changes and you are doing what you were doing the day you found out. I give you total credit.
On top of continuing to do your job, you're also stressing about how you're going to figure it all out after you have this baby. Will you have trained your maternity leave help well enough? Will there be enough help? Is my significant other or partner going to have too much on his or her plate? How will I juggle working with my new job as a mom or as a mom of another child?
In addition to the regular mom questions, we have a whole new group of questions to ask because we already had a baby before we decided to make a baby: the farm. To all of you, it will all work out. Life will be more rewarding watching your baby grow up on the farm and love it like you do. Cry when you need to, and don't be afraid to ask for help. And keep being amazing!
Editor's note: Ashley Messing-Kennedy provided this blog to Progressive Dairyman at the end of October. On Nov. 3, 2018, she and her husband, Eric, welcomed their second daughter, Adeline Mae, into the world. Congratulations to the Kennedy family!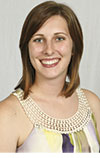 Ashley Messing-Kennedy

Dairy Producer
Bad Axe, Michigan
Before commenting on our articles, please note our Terms for Commenting.