Here in Wisconsin, some farms are now falling under the jurisdiction of the Occupational Safety and Health Administration (OSHA) in regards to workplace safety, and I hear a large amount of pushback from my peers about how we as farmers don't want and cannot afford more government regulation.
Three on-farm deaths in our county in the last year of young people aged 26, 24 and 3 have gotten me thinking about farm attitudes about safety, and how it balances with the "lifestyle" of farming, especially with the reality of kids working side by side with their parents.
The deaths of the young men in their 20s were ruled to be accidents, and we may never know the complete circumstances. According to reports, the 3-year-old was killed by a skid steer operated by his 5-year-old brother, while in the presence of a parent. What an absolute tragedy!
From a safety standpoint, farming is risky, and it's not uncommon to see children placed in situations for which they are physically or mentally unprepared, with the belief it is part of the farming lifestyle.
If we as an industry are putting these "lifestyle" choices above safety, then we need government oversight.
For myself and many others, part of the joy of farming is working with and around our family, including our children. It is a great privilege and honor to be able to spend some of my working time with my kids, but it is also a great responsibility. I make sure that I am putting my kids (5 and 7) in situations where they can learn with me in a safe and fun manner.
While they are fascinated with the large equipment and want to be around it while it's operating, we must remember that most equipment is much larger, heavier and moves faster than our fathers' or grandfathers' equipment did.
As far as operating equipment, so many of us probably started somewhere around 10 to 12 years old. With today's equipment, this probably shouldn't happen until 16, and only after proper training on the equipment. Children need to be old enough to be able to react properly and much faster to their environment than in the past. We want them to have the maturity to make the correct decisions.
I feel that if we in the agriculture industry don't want government oversight into safety on our farms, we need to make some commonsense changes on how safety is viewed and practiced for all of us on our farms.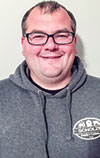 Theo Scholze

Dairy Producer
Humbird, Wisconsin