Fourth-generation Oregon dairy farmer Derrick Josi is no stranger to tackling the hard questions about dairy farming posed by skeptics online. His first book, An Industry Worth Fighting For, addresses some of the misconceptions and questions he hears from consumers.
It climbed to the number-one spot in business infrastructure, environmental economics (books) and green business (books) categories on Amazon during the first week after its release on October 9, 2021.
"I wrote the book for people of all ages outside of our industry who want more detailed answers to their questions about dairy farming and agriculture from someone who actually farms instead of someone with an opinion who has never stepped foot on a farm," Josi says. "I hope the book helps put into perspective what is actually happening on a dairy farm when people see a negative news piece or a hit piece on dairy and animal agriculture."
Each chapter discusses a misconception he hears from consumers or self-proclaimed animal rights activists online. Topics covered include artificial insemination, profit, 4-H and FFA, sustainability and how dairy farms have changed over the last century, to name a few.
"My favorite chapter is the one about profit," he explains. "Dairy farms are businesses, and like any other business, we must make money to continue farming. Margins are slim, and the last five or so years have been extremely tough for dairy farmers across the country. We've seen too many multi-generation dairies go out of business because they couldn't make it financially. Some consumers frown on farmers making a profit, but it's necessary if they want local food in the future."
It took roughly six months from start to finish to develop and write the book with ghost writer Steve Olivas and an editor before self-publishing it on Amazon. Collaborating with a ghost writer to develop content for the book involved many phone calls discussing the dairy industry and agriculture and then reviewing chapters to change anything that did not sound like him.
"Work[ing] with a ghost writer was like having a conversation with a friend about farming," Josi says. "I was most surprised about how easy the process of writing and publishing a book is. Amazon makes it simple to publish, and working with a good editor made it a smooth process and less stressful than I was expecting."
For other farmers considering authoring a book to connect consumers to agriculture, Josi says "just do it. So many people think about doing it and never do." Everyone has a story, and someone does not need to be a writer to publish a book. There are resources and professionals to help with the process, including ghost writers, editors and more.
An Industry Worth Fighting For peaked at number 64 in new releases during the first week and has received more than 80 reviews with a 4.9-star average as of November 2021. Some reviewers call it a "must read" and say it was "not what [they] were expecting," while another wrote a longer review about why those removed from farming should read it:
I was born and raised in a major metropolitan city. I am a retired clinical scientist that spent my career in laboratories on the East Coast. How I was connected by the Facebook algorithm to videos by a dairy farmer on the West coast is a mystery, but I'm so glad it happened. I was immediately captivated by his love for his "girls" and raw honesty of life on a farm. But I don't like to spend much time on [Facebook], so I bought the book the minute I heard it was released … I was incredibly surprised in two ways: First – I was expecting stories about his girls and life on a farm. But what I got was a well-researched, heavily referenced overview of the dairy industry and the challenges they face from activists and government interventions. Second – I cannot remember the last book I read that made me laugh out loud so many times. It was educational and hysterical. I could not put it down!
Less than 2% of Americans are farmers, and the rest are an average of three to four generations removed from the farm. Farmers are also several generations removed from today's consumer, and it is up to both sides to bridge the gap, Josi says.
He aims to be that source of information for consumers who do not know a dairy farmer personally by sharing daily videos and posts online showing what life is like on the farm and discussing topics that impact farmers. He hopes the book will make it easier to find answers to some commonly asked questions instead of searching through articles and thousands of hours of video shared on his social media pages.
"I want readers to understand that farmers are doing right by the animals and the people we are responsible for feeding," Josi says. "There are groups out there with the goal of eliminating animal agriculture, and they spread misinformation that disturbs consumers on an emotional level to gain traction. Visit a farm and see firsthand how dairy farmers take care of their animals and the environment, and then develop your own conclusions."
Josi dove headfirst into sharing his farm story online in 2016 and now has more than 633,000 followers on Facebook, nearly 53,000 followers on Instagram, 20,000 monthly website visitors, and 6,300 newsletter subscribers. He farms with his family in Tillamook, Oregon, on the same property his grandfather farmed in 1918, and he is steadfast in his quest to share farming through the community he established online with the handle: "TDF Honest Farming."
"Transparency is essential, and sharing our day-to-day life on the farm on social media and in the book builds trust with consumers so when we say something, they believe us," he says. "While the book is not written for farmers, the industry has been supportive and encouraging. I appreciate everyone who has taken the time to read the book."
You can purchase Josi's book on Amazon.
PHOTOS: Photos courtesy of TDF Honest Farming (Derrick Josi).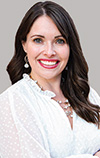 Kimmi Devaney

Senior Director of Communications
Oregon Dairy and Nutrition Council