Rain. This is how many people who are not from the Pacific Northwest describe Washington. However, parts of the state receive less than 5 inches of precipitation each year while the Hoh Rainforest on the Olympia Peninsula receives an average of 127 inches of annual precipitation.
Washington's 300 dairy farms are just as diverse as the climate. Divided by the Cascade Mountains, the two sides of the state are vastly different in climate, cow housing, farm size, urban pressure and more.
Western Washington is what most people think of when they think of the Evergreen State: rainy and very green with a lot of waterways including streams, rivers and Puget Sound. In contrast, much of southeast Washington, where most dairies on the eastside are located, is a desert region with little rainfall. Open-lot dairies are common in southeast Washington, where heat is more of a concern than precipitation. On the rainy side of the state, freestall barns are standard on most dairy farms.
Tech companies are a familiar sight in western Washington, and dairy farms are no stranger to technology, either. Many dairy farmers are adding technology to address labor shortages, improve overall efficiency and enhance environmental stewardship. For example, besides robotic milking machines that replace the milking parlor altogether, robotic arms used for pre- and post-dipping are becoming more common on dairies with carousel parlors. Several dairy farms have anaerobic digesters, and one recently added a biogas plant to create compressed natural gas (CNG).
In 2016, Royal City dairy farmer Austin Allred piloted a new technology from Biofiltro that uses the digestive power of worms and microbes in a biofilter to convert dirty water into irrigation-quality water in addition to creating a valuable soil amendment, which improves soil health, crop yield and carbon sequestration. He has since expanded the worm beds to 5 acres, and several other dairies are piloting the system.
While new technology helps, it is the small things that make the most difference, especially with environmental stewardship. Switching to energy-efficient lighting, installing variable-speed drives and utilizing a programable logic controller (PLC) to control and automate lights, fans, soakers, and the flush and wash system are a few examples of how Washington dairy farms are implementing both simple and innovative solutions to decrease energy usage.
Most of the state's population lives in western Washington. Urban sprawl resulting from a growing urban population in Seattle and surrounding areas has made it more difficult to farm in recent years, and many former dairy farms and farm fields are becoming housing developments. Washington consumers are interested in more than where their food comes from and its nutrition value; they want to know that farm workers, livestock and the environment are treated well.
Washington is home to 279,000 cows with an average herd size of nearly 900 and is ranked tenth nationally in milk production. The number of dairies has declined by one-third since 2010 to the 300-plus in the state today. While management styles vary as much as the climate, a commonality throughout Washington is the innovative and business-minded nature of the state's dairy farmers. They are committed to continuous improvement, and that is what it takes to farm in Washington's political climate.
While the weather is ideal for cows, the legislative climate has been challenging. As this goes to press, Washington farmers are awaiting Governor Inslee's signature on a bill that will require dairy farmers to start paying overtime above 40 hours per week; the rest of agriculture will transition down to 40 hours over three years. However, the bill will provide relief to dairy farmers from the possibility of having to pay three years of retroactive overtime compensation.
In November, the Washington Supreme Court overturned a 60-year-old ruling that exempted agricultural workers, including dairy workers, from overtime pay for any hours worked over 40 in a workweek. While this initial ruling applied more to dairy workers than workers on other types of farms, the 2021 bill will extend it to all of agriculture. Dairy farms – and cows – operate 24/7 365 days a year and do not stop at 40 hours; cows need care every day, and this will increase labor costs for dairies.
This is just one example of the regulatory climate and attention on dairy farms in the state.
Rich soils, diverse climates and large-scale irrigation may help Washington produce more than 300 different crops each year, but it is the passion, persistence and dedication of Washington's 300 dairy farmers in preserving their family farms for future generations, continuously improving their farm practices and caring for their communities that make them a key ingredient in local communities across the state.
PHOTO: Divided by the Cascade Mountains (which includes Mount Rainier), the two sides of Washington state are vastly different in climate, cow housing, farm size and urban pressure. Photo provided by Kimmi Devaney.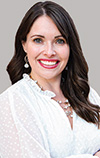 Kimmi Devaney

Director of Communications
and Industry Relations
Dairy Farmers of Washington