Prior to my return to our family's dairy farm, I worked for an electrical contractor. In my time there I completed my apprenticeship and worked my way from foreman to superintendent to project management in a 12-year career.
During that time, I learned some hard lessons on managing projects and people by "feel" or "heart" without watching the numbers as closely as I should, which led to some failures from both a construction point of view as well as the development of people. When I returned to the dairy, I brought these lessons with me and have always tried to make sure my management choices make numbers sense and eliminate "heart" from my decisions.
As we entered a third consecutive year of below-average prices for our commodities, I felt that being very numbers-centered was what was going to help our farm survive and be in a position to be successful going forward. It appeared that we were doing a good job as we were consistently lowering our cost of production and our production numbers were improving, so it seemed as if our focus on the numbers was working.
However, two events in the last few months have provided a stark reminder to me that I need to focus on the humanity around the numbers as well in order to have a full life. The first thing was my mom receiving an alarming cancer diagnosis; she has stage 4 gallbladder and liver cancer with a long road of treatment and recovery.* The other was a severe non-farm accident that currently has one of our young employees in a coma and his father off and taking care of him.
These two incidents have very much changed the feel of day-to-day life on our farm, with two people not here and my dad being gone and taking care of my mom. As we approach spring fieldwork, things will take on a very different feel as different people will be stepping into roles that are new to them this year to cover for those who aren't here. It has been very good for me to see the willingness of everybody to be flexible with his or her job and help to get everything done. This has been a good reminder to me that we are a small community here and people are looking out for each other.
One other thing happened that I hope fully opened my eyes to the quality of the people I work with. At our monthly meeting with our Hispanic barn crew, I was handing out bonus cash as the team had earned it due to performance on the dairy. I was just finishing handing it out when it was all returned to me with the request that it be given to Cody, the young man in the coma. This was very humbling and brought tears to my eyes as I wasn't expecting it and helped me to understand that everybody was hurting and wanted to do what they could to help.
As I have reflected on this winter's experiences going into spring, it has helped me to understand the quality of the people I work with. I'm reminded that it is their implementation of my ideas that has gotten us to where we are today. I also feel a greater sense of urgency to make sure that our farm is successful so that I can continue to work among people who are helping me to see the good in the here and now and not to be blinded by always watching the numbers.
*Editor's note: Theo Scholze emailed the Progressive Dairyman team to let us know his mother lost her battle with cancer on July 2, 2018. We extend our condolences to the Scholze family and encourage readers to focus on the 'heart' – the family and employees – of their dairy operations.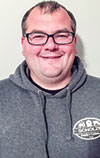 Theo Scholze

Dairy Producer
Humbird, Wisconsin