If you're anything like me, sometimes farming can consume you. This isn't necessarily a bad thing, but farming has a tendency to throw us challenges, long hours and a long list of to dos. It seems as if there is always something else that can be done.
Although these tasks may seem to be a lot, it is definitely a pleasure to be able to walk into the barn every single day and work with an amazing group of cattle to produce nature's most nearly perfect food, milk. With that, I highly recommend finding one thing within the industry you can put an emphasis on and always be able to go back to when you need a reset or fresh experience on the day.
Simply put, farming is one of the most challenging yet rewarding occupations. It definitely takes a special person to diligently work through all weather conditions, holidays, weekends and extended hours just to start all over again the next day. In addition to the daily tasks that need done, there are always extras tossed into the mix that may be out of our control, such as weather, milk prices, new rules/regulations, etc. Personally, I love doing routine daily chores, but it is so refreshing to have that one special part of the day to look forward to. For me, that's a show cow named Blush. My morning starts with milking the 120-cow herd. Once all the cows are milked, I then clean up the parlor and move on to calf chores. I do the evening milking and calf feeding as well. This schedule is pretty routine to me, as I've been doing it for six plus years now.
Even though every day is a little bit different on the farm in some way, and as a routine-driven individual, this schedule can still tend to get a bit dry after a while, even when farming is a dream that's now a reality. With that, as touched on above, I highly recommend finding a passion on the farm. Yes, having off-farm interests such as baking, reading or taking a class are great. Absolutely, sometimes you need time off the farm, but overall, if most of your time is spent on the farm, you might as well have something there that is of higher interest to you that can be your go-to when you need a different outlook on farm life.
For me, this passion was rekindled two years ago. I was a 10-year dairy 4-H member and have been involved with cattle my entire life, but it wasn't until two years ago that I really developed my passion for a good show cow. The love of working with that special cow day in and day out is what drives me to continue to be so inspired by farming. Being able to put in the extra time and effort to develop a cow that makes you proud even when she is in her "work clothes" is something that truly pays off. Sure, I have several other cows that I co-own or that were gifted to me, but putting in the blood, sweat and tears, and making the decision to invest in a special show cow of my own is one of the most rewarding accomplishments to date for me.
Maybe showing cattle is not your forte, but I urge you to find something on the farm that you can invest in that makes going to the barn everyday extra rewarding. Maybe that's saving up to buy that loaded tractor that you've always wanted, or a new implement for fieldwork, or building an office that overlooks the parlor to watch your dreams become a reality every day. No matter what it is, find your true passion on the farm and run with it. Farming isn't for the faint of heart, and leading that special cow out of the box stall to the parlor instead of having her go with the flow of the other cows may seem like a small thing, but for me, taking those extra five minutes to walk her and bond with her fuels my love for the industry and drives my passion to persevere through the challenges of farming.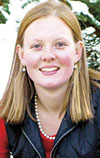 Julianne Holler

Dairy Producer
Sharpsville, Pennsylvania