I stumbled across some posts on Pinterest of lists of questions to ask your spouse, children, friends, etc. I thought, "Well, this might be fun" and clicked on a post. I called the kids in the room and began to ask them random questions.
Everyone was laughing, and they couldn't wait for me to ask them the next question. I quickly realized there are things I really didn't know about my kids – things like their greatest fear to even their favorite book – so many things you just assume you know.
This instantly became one of my favorite activities to do with the kids. They love to answer the questions, I love learning new things about them, and we enjoy the conversations that come from them. It is also such a great way to sneak in some deeper questions to get to know what goes on in those little heads of theirs.
There are definitely some questions that are fun to do with the whole family, but I strongly encourage you to ask these questions of each child individually so they share their true answer and not their siblings' answers.
Here are 20 of our family's favorite questions:
I hope your children love this little activity as much as our family does, and that you learn something new about them.
This blog is reprinted with permission from The Farmers Wifee.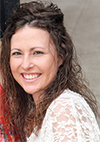 Krista Stauffer

Dairy Producer
Washington