I started listening to independent country artists about four years ago, and one of my favorite songs by Texas band Flatland Cavalry goes: "On the other side of lonesome, there's a place for you."
It's one of the songs I turn to the most, for not only my own comfort but for helping others as part of my mental health advocacy work.
Those words also call to mind all the times I've witnessed (and experienced) some of the horrible heartaches we endure as a result of giving a piece of our hearts to our favorite cows. Losing a special animal is like losing a family member or close friend; it can pull you down into the darkest, coldest and loneliest places you never wanted to be in. Some of those stories have been captured in the words we write and post on social media, on the backs of our cameras or locked away in the silence of our hearts.
Not too long ago, I did a cap-and-gown photography session for one of my favorite people as she got ready to graduate summa cum laude from UW – River Falls. My Facebook memories reminded me that, just two years before her session, Hannah's Red and White show cow went down with pre-fresh milk fever.
The cow, Miss Me, delivered a healthy and beautiful heifer calf but was put to sleep shortly afterward when it became evident she was not going to make a recovery. To add insult to injury, Miss Me's ovaries were harvested after she died to do a terminal flush. A good number of oocytes were retrieved, but the ovaries got lost in the mail en route to the facility.
Two years later, Hannah took Miss Me's daughter, Miracle (an All-American heifer by that point in time), for a walk across the UWRF campus in her cap and gown.
Several months after Miss Me died, I did some senior photos for another one of my favorite people. Brooke not only wanted to include her show cow, Felisity, but Felisity's two daughters, Fawn and Frigid. We managed to pull off a "family photo" of the three bovines with a lot of help and calf grain. A few months after those photos were taken, Brooke's mother texted me to tell me Felisity had died the night before from a heart attack.
A year and some-odd months later, Fawn and Frigid both won their classes at the Wisconsin Holstein Association District 1 Show. Fawn and Frigid went on to win Intermediate and Reserve Intermediate Champion of the junior show, while Fawn was Intermediate Champion overall.
Here's my personal story of struggle and strife giving way to recovery and redemption at the hooves of a cow I loved very much. My heart was overjoyed when I received a registered Jersey calf, Heather, from my boyfriend two days before he dropped to one knee with a diamond ring. I honestly cried more when I got the calf because I knew the ring was coming. I shared three more wonderful years with Heather, delivered and raised two beautiful daughters of hers and created millions of memories before the cow that was more than just a cow split out on the ice just before Christmas.
The anxiety that ensued as I wracked my brain and body trying to save her, and then the depression that set in when I lost her, pulled me into an undercurrent I almost didn't come out of. In my turn to share in the misery of an injury supplemented with insult, Heather's youngest daughter, Helena, gorged herself on corn as a yearling and died, leaving me with just one daughter from the cow that was more than just a cow.
Yet, some way and somehow, I came back up for air and made it back to shore – one day, one step, one prayer and one teardrop at a time.
A little over two years later, Heather's only daughter was up for appraisal. Hattie had gone Very Good-86 seven months prior as a rather stale 4-year-old but was a little over a month fresh when it was time to score again. With her udder closely clipped and body curry combed within an inch of her life, Hattie was lights-out gorgeous.
When the appraiser said 90 points, it was all I could do to keep the tears that suddenly welled up from falling down my cheeks.
The story arcs throughout all these tales of trial and triumph, devastation and delight, and moving from tears of grief to tears of joy are something we can all relate to regardless of our walk of life. In fact, because it's something we have all been through as part of the human experience, it can be a powerful part of the stories we share as we connect agriculture to the rest of the world.
Story arcs like these also show that no matter who you are, what you do or what you're going through – the sun will rise again, rain will fall on your barren fields, and the storms will calm in time. There truly is a place for you and me and everyone else on the other side of lonesome.
Brittany Olson is a dairy farmer and freelance writer from Chetek, Wisconsin. She and her husband, Sam, milk 40 registered Holsteins and Jerseys on their 116-year-old farm.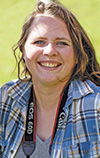 Brittany Olson

Dairy Producer
Chetek, Wisconsin