I used to be organized. I was the Type A person who carried their Franklin Covey planner around like a baby. Then I married a dairy farmer, started farming with him, had kids, started homeschooling and ran a business out of our home. Things got crazy and unorganized fast.
Last year, I stumbled on the FlyLady (www.flylady.net). Maybe you have heard of her? Marla Cilley is the genius who created a plan to clean and organize your home by just adding baby steps to your routine. It worked. My home is a lot more organized now, and I don't feel overwhelmed.
While I was feeling pretty good about our home, I wasn't feeling the same about our barn or my farm responsibilities. Little things were slipping, and I never had time to do those projects that should be done. I had a light-bulb moment one day and decided to apply the FlyLady principles to our farm.
1. Make your sink sparkle. FlyLady recommends you don't go to bed without making your kitchen sink sparkle. What could be my equivalent in the barn? For me, it is our barn front and entryway. Now, each night I pick up and put away buckets, tools, etc., that get left in the barn entryway, water the flower baskets and sweep it clean. It is nice walking into a clean barn in the morning (and knowing where your tools are).
2. Create night and morning routines. FlyLady's routines involve getting dressed and making your bed in the morning. Then checking your schedule and setting out clothes the night before. My barn equivalent is filling the four-wheeler (my farm vehicle) with gas and tagging all new calves after morning milking. At night, I make sure all our notes to employees are up to-date.
3. Spend one hour each week blessing (cleaning) your house. I dedicate each Saturday morning to a barn blessing (cleaning) hour. I make sure unused calf pails are put away, empty hutches are moved to proper places, and all chore gloves and milking clothes get a good washing.
4. Spend 15 minutes each day cleaning a zone. FlyLady breaks your house into five zones. Each new week is dedicated to a different zone. I am still working on this step. I am in charge of employees, marketing, calves and milking most shifts each week.
So my current zones are: HR and financial work, marketing, calf area and milking parlor. I know that is only four. I try to spend one week putting extra time paying bills and keeping our accounting up-to-date. I also work on scheduling employees. The second week I dedicate to updating our website and working on marketing.
The third week, I try to get calf disbudding done and washing calf coats. On the fourth week, I do a little extra cleaning in the milking parlor and milkhouse.
Nowadays, my planner is my phone. I set daily, weekly and monthly reminders to keep me on task. As 2018 starts a fresh new year, it is a good time to evaluate how our routines are going and if we can make any improvements on our farms.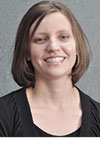 Emily Zweber

Dairy Producer
Elko, Minnesota
Before commenting on our articles, please note our Terms for Commenting.