When I got asked to write the HERd management column for the "State of the Dairy Industry" issue, I knew it could be a challenge. After all, how do you summarize an entire year into so few words?
But after really thinking about it, I can summarize the last year into one sentence: The last year has been challenging.
I can think of so many ways this year was a struggle for the dairy industry. First of all, the milk price is an obvious one. I'm not sure about you, but it wasn't fun paying bills over the past year.
It wasn't a 2009, but it wasn't exactly an enjoyable year financially either. These times are inherently stressful, but they can bring out the best in us too.
How could we forget the blizzard in the southwest part of the country? Thousands of cows and youngstock perished in the storm. Even now, there is lasting damage to teat ends and cow numbers.
As someone who is from the Midwest, I know that type of a storm is crippling here. I cannot imagine farming through one in an area not prepared for blizzards.
There is a special place in my heart for the state of California. I interned there during a summer in college and have stayed close to my friends there. It has been hard to watch the repercussions of the drought over the last few years.
Although there has been rain and snow in parts lately, there is a long way to go. All segments of California agriculture have been working hard to share what they do, to preserve and recycle water versus wasting it.
These are just a few of the examples I decided to talk about. To say this year has been challenging even for the best of us would be accurate. When a group of farmers are put into a difficult situation like this, we put our heads down and go to work.
It has been difficult, but to see us persevere through hard prices, weather and drought has been amazing. I have watched farmers work hard to become better business people. I have seen so much charity being given to those working through disasters.
I have been proud seeing California agriculture working hard to share their message.
Challenging is one word I would still describe the past year with. But I would also use inspiring. Watching the things that have become an obstacle this year become a little road bump for farmers has been inspiring. It gives me hope, even though this next year doesn't look better for milk prices.
I challenge all of you to make this year inspiring. Take something that could defeat you and make it just a speed bump instead of an obstacle. Be great even in a time of adversity. PD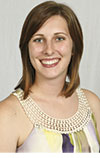 Ashley Messing-Kennedy

Dairy Producer
Bad Axe, Michigan