I stood in the bright August sunshine, looking into a pole barn filled with crop farmers as they listened to a no-till guru tout the benefits of cover crops and soil health.
Farmers from three states gathered for a nutrient management meeting on that beautiful summer day. Not too hot, not too cool: Even Goldilocks would have found this a perfect day for looking at crops and watching equipment demonstrations.
I was there on a writing assignment, and I expected it to be another boring field day, listening to speakers drone on and on about pest management and spout off chemical formulas and soil specifics only a crop farmer could appreciate.
As I stood there in the sunshine, I looked around and saw the deep, green canopies of a soybean field. And beyond the soybeans I could see another field of corn and beyond that, in the distance, were a set of grain bins that belonged to the elevator in the next small farming town.
There were extension agents, seed corn representatives, the local conservation district employees and ag loan officers on hand to offer their expertise. Neighbors were sitting with neighbors catching up on the latest news while they learned from the experts. Adolescent boys dodged in and out as they helped carry bags of ice, park cars and run errands.
Free coffee and donuts, a sheep water trough filled with ice-cold drinks and a lunch buffet were ready for the hungry crowd of farmers.
For a moment, I just looked around and took it all in. Between the soft scenic surroundings, the sweet farmer fellowship and the distant crow of the rooster in the chicken coop, I found myself lost in the moment. This was food for a hungry agricultural soul.
The weeks previous, I had found myself surrounded by agriculture, but it was displayed agriculture for a consuming public. I had been to several Midwestern state fairs where agriculturalists took their livelihood to town to compete. While I enjoyed being at the state fairs and reporting on the dairy shows, it's an entirely different feel than in the middle of that soybean field in rural southern Michigan.
At the state fairs, I was surrounded by throngs of people, constantly consuming the entertainment around them. They were in search of the best food, the coldest drinks and to provide the most memorable experience for their hot, sweaty, tired and apathetic children.
At the field day, it was serene, the crowd of folks were slower, less demanding, happy to be there and looking for knowledge. The crowds at the state fair represented dollars to vendors. This group of farmers were a representation of land stewards seeking understanding of how to be better farmers.
Until that moment, I had no idea how much I needed that cup of cold water. I had no idea how refreshing a quiet, country sunset could be or the satisfaction of seeing a trail of white dust kicked up after a pickup on a dirt road in Iowa. Or the intoxication of breathing in the sweet scent of a cornfield beginning to tassel on a hot July afternoon.
We've grown up with the rhythmic sound of a baler in the distance and know what tractor is coming down the road before we even see it. We love the sweet smell of freshly baled hay; we know the joy of seeing a calf stand for the first time and the satisfaction of seeing that calf eager to eat its first meal.
But isn't it funny how we learn to appreciate these small things when they are absent from our lives?
Are you in a place where your soul is thirsty? Do you need that cup of cold water for refreshment so you can continue to move forward through a tough time? Take it. Take in a sunset. Stand in a quiet cornfield and hear the rustling of the dry leaves. Listen for the chatter of squirrels in the treetops. Take in some fellowship with someone who knows what it's like to walk in your shoes.
Then, count it pure joy when you go through trials because you know the testing of your faith produces perseverance. Let perseverance finish its work so you may be mature and complete, not lacking anything.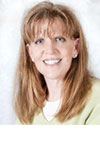 Melissa Hart

Dairy Producer
North Adams, Michigan