Are you ready for some football? As the Super Bowl drew near, football seemed to be on every Minnesotan's mind. As Minnesota welcomed the New England Patriots and the Philadelphia Eagles for the big game, dairy farmers were gearing up for the Super Bowl as well.
Having never attended a Super Bowl, I had no idea of all the surrounding activities that happen in the host city. For one week prior to the big game, there are events, parties, displays and concerts. Many of these include the Fuel Up To Play 60 program. If you haven't heard of this program, Fuel Up to Play 60 is a school nutrition and exercise program launched by the National Dairy Council and the National Football League in collaboration with the USDA to improve health and wellness for kids. The keys to Fuel Up to Play 60's success are having a strong student foundation, a team of committed educators and community engagement, with the goal of building a healthy, high-achieving generation of youth.
Dairy farmers participated in several Fuel Up To Play 60 events during Super Bowl week. I was involved in the "Super Bowl Experience," which was sort of an indoor fair with displays and activities centering around anything and everything football. Attendees could view past Super Bowl rings, get up close to the Lombardi trophy, observe NFL broadcasts in the making and even do the combine drills. It was a huge weeklong event, but the part I enjoyed the most was assisting with the Fuel Up To Play 60 area.
Dairy farmers manned a booth that gave football fans the opportunity to visit a dairy farm (and an NFL locker room) through a virtual reality game. As with any big, well-attended event, fans waited in long lines. This gave us a great opportunity to speak about our farms, dairy foods and the importance of eating right with dairy of course! It was a fun time to answer questions and even teach through the trivia we shared. And the cheese samples we handed out were a big score too!
I also had the opportunity to be the "special guest" as school-age children were invited to the skills and drills field. Students were welcomed by a dairy farmer and an NFL player to get in their 60 minutes of physical activity by participating in on-field drills. I was paired with Kareem Hunt of the Kansas City Chiefs. We began by sharing things about ourselves, so I got to talk about our dairy farm, what we do each day on the farm and what happens to our milk when it leaves the farm. After Kareem shared about being a pro football player, and also told us that chocolate milk is the best, we led the kids through the activities.
I am proud to be a part of the dairy community that puts a strong emphasis on the health of our youth. I appreciate that dairy farmers have the opportunity to collaborate with the National Football League to encourage exercise and good nutrition. And being a part of the Super Bowl Experience and rubbing elbows with NFL players isn't bad either!
This article also appeared on Janet Bremer's blog.
Janet Bremer has a blog and is also on Facebook and Twitter.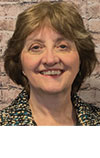 Janet Bremer

Dairy Producer
Hastings, Minnesota
PHOTO 1: Minnesota dairy farmer Janet Bremer and professional football player Kareem Hunt take a group photo with the Fuel Up To Play 60 students after completing drills.
PHOTO 2: Janet Bremer and her daughter, Sara, are ready to hand out cheese samples.
PHOTO 3: Kareem Hunt, Coach Keith McMaster and Janet Bremer greet the Fuel Up To Play 60 students. Photos courtesy Molly Pelzer of Midwest Dairy Association.