It all started with an innocent comment on a Facebook post in a local community group. A young woman was looking for a place in town to start an animal rescue. I politely told her city and county laws dictate that one must own at least 10 acres to house livestock.
The original poster was outraged these regulations existed. I explained they are there to protect not only the animals but also the environment. Housing animals in close quarters on a small plot of land is not good. Then I looked at the poster's Facebook profile.
That innocent conversation on Facebook turned into identifying myself as someone against an animal rights advocate who wanted to rescue animals within city limits, no matter what the laws are. I'm not going to lie; when I first learned that our farm was being targeted by a local animal rights group, I felt fear. I have worked in agriculture communications for almost 15 years. I have been trained over and over again on how to handle extreme animal rights groups. I know the worst-case scenarios. Some animal rights groups are identified by the FBI as terrorists. Burning down buildings, cutting fences, freeing animals and even bombing places are all tactics they use. Even if the group isn't at a terrorist level, their goals are the same: "disruption."
Eventually, my fear faded, though it never goes away. This group was planning on protesting our farm the Friday before Christmas. In preparation, we contacted our local sheriff to inform them of the event. The sheriff's department was very helpful in explaining trespassing laws. I worked with them to develop a plan so the protesters could be safe and so our animals remained safe. We talked about how to keep the protesters safe on our busy county road. We talked about alternative places the protesters could go if their crowd was large. The sheriff's department offered extra patrol of our road that day. I made arrangements for my children to spend the night with my parents out of town. While I didn't expect things to become violent, I didn't want my children to be a part of any conflicts. We informed our milk truck driver and employees of the event and how to make sure everyone stayed safe. I was doing more work to make sure the animal rights protesters had a successful event. Ha!
The First Amendment is a serious thing. It is very important that our rights under the U.S. Constitution are upheld. While I don't agree with every protest, I do agree that every U.S. citizen has the right to protest for their causes. This includes the animal rights group. They have every right to stand on our road protesting what our farm does. I don't agree with them, but they have rights protected under our Constitution, and I honor that.
The day came for the event, and no one showed up. Honestly, I was slightly disappointed. We had planned to bring them coffee – sans creamer, of course. The day was bitterly cold. Maybe that kept them away. I later found out that the organizer has a severe heart condition. Maybe that kept her away. I hope she is well and I have no ill feelings toward her. Instead, on that day I wrapped Christmas presents, made last-minute holiday food preparations and cared for our animals.
Prior to the event date, we had a meeting with other local farm families at our house. With an animal rights organizer living in our town, we asked ourselves, "How will our lives change?" The answer is: Not much will change. We will make sure to have "no trespassing" signs up and be extra vigilant about who enters our properties, but the farmers in our community are some of the best. Caring for our animals is what we do every single day of the year.
Emily and her husband, Tim, co-own and operate a 100 percent grass-fed, organic dairy in Elko, Minnesota.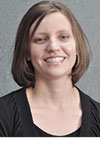 Emily Zweber

Dairy Producer
Elko, Minnesota