Have you seen the little NIR (near-infrared reflectance spectroscopy) device that fits in your pocket for instant dry matter sampling? I started looking into the SCiO device – commercially known as Reveal – as a replacement to drying every feed sample for an hour twice a week.
With multiple feeds and the wide variety of weather events, accurate dry matter sampling needs to be faster. I was skeptical at first, and I had all of the same questions that you might have:
Is it as accurate as drying each sample in an oven or Koster tester?
Will it work in the rain?
What if I don't have internet access?
How much will it cost?
After getting one for myself, I have been able to put all of those questions to rest, and I've discovered these NIR devices are legit. You can carry it anywhere with you and do any number of feeds in a matter of minutes.
What is it?
In a nutshell, you have a device the size of a business card that syncs to an app on a smartphone. You select whatever feed you want to sample from the table on your phone and then scan that feed 10 times. Each scan takes about 10 seconds. Every scan is then verified through the cloud (my version uses the forage data from Rock River Labs) to confirm that if you selected corn silage that you are actually sampling corn silage. After you have 10 verified scans, the device will analyze your data and give you a real-time dry matter number with the whole process completed in under two minutes. You can do all of your feeds every morning in less time than it takes to down a cup of coffee.
Is it accurate?
It seems to be spot on. The difference with the pocket-sized device that gives rapid results is that you can take many more data points than you would if you were oven drying or cooking everything in a Koster tester. The first day I used it, my results were all within a half percentage point of my Koster tester. I'm sure you have noticed a difference between on-farm tests and lab results when it comes to moisture, so it's important to stick to one system. The variation will be minimal once you commit to using only one system.
Where I see more variation is during rain events. That concept is old news, but I have traditionally avoided sampling in the rain so my baseline dry matters would not be affected. Most of the adjustments from rain were done by guessing. Now with the availability of instant results, I can sample easily in the rain and adjust correctly. If I waited for an oven sample, the rain event may pass before my sample was cooked.
What if you don't have internet access at your feed storage?
Supposedly, you can still scan your feeds with the device, and you can upload your results when you get back to an area with better service. We have one dairy with no service outside the buildings, and I have found it works best to bring the samples inside in a pail and take the sample from the pail while connected to live internet. The salespeople will tell you that it will scan anywhere in the field and analyze the data later, but I have had much better success scanning when the app and the device are always connected to the cloud.
How much does it cost?
The sticker price is a pretty popular topic. Cargill has prices listed publicly for Reveal – a $499 setup fee for the device and $180 per month for a 12-month commitment to have the most up-to-date software. All in at $2,659 for the first year. That seems like a hefty sum on the surface, but don't walk away thinking that your herd is too small or the milk price is too poor to find the benefit.
Most ration changes that result in an increase in production are directly tied to correcting a dry matter problem. A moisture change here has routinely proven to be worth a pound of milk on any given day. It's easy to lose a pound or two from rain events, and it's easy to overfeed once the conditions turn hot and dry. The longer you go between samples and dry matter corrections, the bigger that swing can be. With more frequent dry matter testing, your results may not always be what you gain, but what you didn't lose.
The cost of $2,659 for the first year on $14 milk is 19,000 pounds of annual production or 52 pounds a day. If a dry matter adjustment is worth 1 pound of milk per cow in consistency, then even a 52-cow herd can justify using the pocket NIR device. For consultants and nutritionists who are after instant results, the potential is equally as rewarding. You can have current dry matter samples and ration adjustments completed before you leave the driveway on your farms, and more milk can be put in the tank while you are waiting for official lab samples to come back. Margins are thin, but dry matter is something you can be in complete control of to maximize what you have on hand.
For a more detailed look at how to get started with a NIR device, I have put together a free cheat sheet of best practices for instant milk. It includes contact information to get started and some of the tricks I have learned on how to accurately turn on-farm NIR into real pounds of milk. Whether you are using one yourself or are looking for a better system, you can use these shortcuts to get better results from your feed program. Your free guide can be accessed at the Dairyhack website.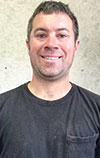 Jim VanDerlinde

Dairy Producer, Consultant
Hillview Dairy
Lewisburg, Pennsylvania
PHOTO: Dairy consultant Jim VanDerlinde says a herd of just 52 cows can justify the cost of a NIR device for instant dry matter sampling. Photo courtesy of Cargill Animal Nutrition.