My brother and I both had the privilege of working off the farm after high school before we came back to take over the dairy. One of the things we learned in our experience in manufacturing settings was in regard to equipment usage, specifically in terms of the numberof hours a day a piece of equipment was used.
This is something that has always been in the back of our mind as we returned to the farm. Too much of our equipment doesn't really get the hours they need to make sense for us to own them, but it isn't always in our best interest to hire a custom harvester either. (For instance, our corn drying setup cannot keep up with a custom crew.)
We have always had in the back of our mind that the best-case scenario would be for us to work with some neighboring farms and co-own some equipment or own certain pieces and then charge each other custom rates. In this mindset, we purchased with a neighboring farm a vertical tillage machine. The cost was split 50-50, and we installed an acre meter on it. The maintenance cost is split annually based on percentage of acres that each farm has used the machine. This worked well, and so we decided to share some forage equipment with them as well. The other farm owns a triple mower, and we own a merger and chopper, and both farms have trucks and/or tractors with wagons that can be used for making hay. In this agreement, we just charge each other local custom rates for the equipment we use. Again, this has worked well over the last three years, so we are now in the works with a couple of other agreements.
One is regarding a combine. We are looking at a slightly different arrangement on this one. The last three years we have hired a custom operator to help us combine our soybeans so we could get them off the field in a timely manner, and we have harvested our own corn and wheat. We are in the process of finalizing an agreement in which we would pay a flat rental fee to the other farm to use their combine. We would do the work but would now have the ability to complete our own harvest without hiring somebody to help and without overwhelming our other equipment. The cost of rental is less than we have been paying for a custom operator, so it works nicely with our budget.
The other plan we are going to be spending this winter working on is with manure equipment. There are three farms in a 9-mile radius of each other that all need to hiremanure pumping every year. Currently, it is being pumped or hauled past fields that are getting manure from a different farm. We have had early discussions about if we could split the cost of equipment and pump our own manure, and it could be applied to the closest fields, regardless of who farms them, to lower the cost of manure for all of us.
My dad finds it humorous that we are 'going backward in time' and doing things that Grandpa did, like a thrashing crew, hay-making crews, etc. We laugh and say, 'Well he was ahead of the game, economically.'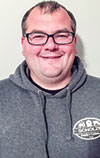 Theo Scholze

Dairy Producer
Humbird, Wisconsin