In 2017, my New Year's resolution was that instead of complaining about things, I was going to do something about it. I learned a lot that year. I accidentally found some things I'm genuinely passionate about. I also discovered I cannot do it all. This led to my 2018 resolution – saying no to things that don't bring me joy and passion.
Today, I want to stay with the first resolution. I am in a Facebook group that is made for dairy producers and is focused around checkoff. For those of you who might be interested, it's called Dairy Checkoff Farmer Group. The idea behind it is putting farmers as well as checkoff employees and board members in a safe space to have robust conversation. It's a place to ask questions and share articles.
I've been lurking and sometimes commenting for a while. I've noticed one thing. Lots of people complain about how they aren't happy with how things are going. I won't get into my personal feelings about checkoff because that's not the point of this. I want to encourage you to do something about it.
I am not saying you need to go join the board, but go talk to someone, whether it be a local or national checkoff employee or a member of one of the several boards that are run through checkoff. I have found when I decide to express my concerns in a real (not typed) conversation, I often learn things. Sometimes I feel like the board and checkoff employees saw the same thing I did. Sometimes we have a discussion about why I have my feelings and beliefs. I have had the occasional conversation about how that is against the rules of checkoff and it is way above anyone in the office's pay grade. The truth is checkoff has to follow the USDA rules first.
And volunteer for something. I attended a board meeting earlier this year after I expressed some concerns about where checkoff is going in the future, and I saw some red flags. By going to the meeting, I found a project that lit a fire in me. With two little girls, I don't have time to get on the board yet, although I hope to be in the future. But this project has allowed me to have constant input into the area I was concerned with. It doesn't make for a ton of time or traveling, but I am having a part in the future.
Checkoff is just one example of how this applies. In 2017, I also started regularly contacting my legislators with issues that concerned me. Each quarter, I write one email that goes to all of them. If I saw something in my community, like food insecurity, I tried to assist with it. Time is always a struggle, so I try to donate something of means, whether it be money or food. I have found a civil, rational discussion goes a lot further than trying to stir the pot in a Facebook group any day. In the process, you might find something that brings out excitement and passion that you didn't know existed.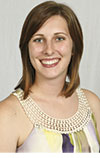 Ashley Messing-Kennedy

Dairy Producer
Bad Axe, Michigan