Starting next week, I begin training a new calf feeder at Cedar-Pine Farm. The title of calf feeder has been mine for six years, and believe me – I am ready to give it up!
With all of the responsibilities I have taken on throughout those years, I don't have much time to take care of all of our babies anymore. I was feeding a bottle of colostrum today, and I wondered what were some of the best pieces of advice I can pass on to our new employee. Here's what I came up with:
• Every person has a different style. There is really not a right or wrong way to feed calves (as long as you do the necessary steps). It is up to you to decide what works best for you and the calves.
• Fight the urge to slice open the nipples! You are doing more harm than good when you open up the nipple (even the smallest amount). The opening on the nipple is that size to best simulate a calf sucking from its mother. I know it takes a long time, but take a breath and be patient.
• Get grain within reach as soon as possible, but don't fill the buckets to the rim. I can't tell you how many full buckets of grain I have dumped because young calves cannot finish it before it spoils. A couple handfuls of grain will do the trick until you notice the calf eating it.
• Take action as soon as you notice something off with a calf. The best calf feeders have a sense for noticing when their calves are not feeling well. Sometimes all it takes is an extra feeding of electrolytes to get that calf feeling better, but the key is to move quickly. The longer you wait to do something, the bigger the chance you will come back to a seriously sick calf.
• An esophageal tube feeder can be your best friend! It makes feeding colostrum a breeze if you have a stubborn calf. If you have a sick calf that won't suck a nipple, use it to get fluids in her. Just make sure you have a separate one for sick calves and newborns.
• Don't be afraid to ask the vet. If you lost a couple calves and don't know what happened, just talk to a specialist. You could be dealing with contagious bacteria or may just need to make a simple change to your routine. Don't ever be embarrassed to ask questions.
• Always save the sick calves for last. Hopefully you won't have any on your farm, but if you do, feed them last. This way you are not contaminating healthy calves with the germs from unhealthy ones.
• You can never be clean enough. Scrub and disinfect everything a calf can touch. It takes extra time, but preventing is better than treating.
• When you are training calves to drink milk from a bucket, it is best to let the calf visually see you pouring the milk in the bucket. It helps the calf understand the concept of what you want it to do.
• Your job is important. Your daily duties may seem monotonous, but you are accountable for the future of the farm. Please don't forget that.
It will be a relief to finally relinquish the title of calf feeder, but I'm sure there will be days I will miss it. I know it is hard work, but I always enjoyed watching our calves grow and eventually have calves of their own. If you are out there feeding calves, I want you to know you are essential to your operation. You have a great responsibility of taking care of those babies. Always stay patient and do the best job you can – because their lives depend on it.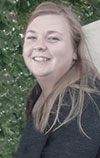 Kelli Woodring

Dairy Producer
Shippensburg, Pennsylvania