When was the last time you sat down with your spouse without the TV on, without notifications on the phone buzzing nearby, with the kids in bed (or not home at all) and talked about any of the following:
What steps do we want to take to improve our spiritual life?
How can we improve our eating habits?
Do each of us get enough "me time" to decompress and destress?
Is our marriage headed in the right direction?
Do we support one another in front of our children?
Do we need to think about helping aging parents?
Are there any specific people we would like to get to know better this year?
How often should we set money aside, and where should we put it?
Have we reviewed our household budget?
What causes are we passionate about?
Do we feel useful in our work?
What are the ultimate goals for the business?
What are the key habits we want to develop this year as a family and as individuals?
These questions might be hard to answer and bring forward feelings of frustration, anger, pride, joy or excitement. They might be questions you talk about often, or some you've never discussed formally before.
I was introduced to The One Thing in November 2018, and one of the first podcasts I listened to was Jay and Wendy Papasan talking about the evolution of their couple's retreat and the subsequent guide they developed to help other couples hold their own retreats.
Six years ago, soon after my husband, Scott, and I started dating, we talked about the 10 most critical goals in our relationship for the next year and why those goals were important to us. We had a quarterly check-in of those goals and were always surprised to see our progress. I am the goal-setter and tracker person in our relationship, so when I heard about The One Thing's format for a couple's retreat, I was all in.
Scott has always been supportive about talking through our goals, and he was willing to try a new format. The guide has a suggested schedule (one- or two-day, depending on how much time you can carve away) and lists thought-provoking questions (a sample of questions are listed above). We agreed that we would both go through the questions and write down individual answers and add questions or topics we wanted to discuss based on thoughts we had while preparing. There is a financial section where you can fill out or review the household budget, and questions that relate to finances. We had a budget already, and I track our finances, so I was in charge of preparing that for our discussion. I also love Post-it notes and am very visual, so I appointed myself to bring the note-taking supplies.
The One Thing encourages you to leave your home to get away from the distractions associated with your daily life. Last year was the first year in our home; we had both been traveling a lot; and we have no kids or pets, so we decided that we wanted to enjoy our home rather than spend another night in a hotel. We set up "ground rules" that were different from how we normally operated in our home. We powered down our phones (scary thought, right?) and agreed we would only turn our phones on once or twice a day during breaks. We love to cook and eat home-cooked meals, but we agreed we would not prepare any meals and that we would get dressed up to go out to dinner on Saturday night.
We had our plan, and our assignments. We were ready.
We started our retreat weekend the Friday after Thanksgiving with our favorite pizza and ate by our fireplace. We didn't bring our notes out or talk about any of the questions. We sat on the couch, listened to our music, watched the fire burn and enjoyed each other's company.
Saturday we went out for breakfast at a nearby coffee shop we don't normally go to, and we were both eager and anxious to start the discussions. I remember thinking that there were so many questions, I didn't know how we would get through them all. I was surprised when we sat down that Scott had actually written down lots of comments, thoughts and ideas for the questions. He had done a better job preparing for the discussion than I had, and I made sure to tell him that!
It wasn't all rainbows, cozy pizza by the fire and sunshine going through our questions on Saturday. We both felt unsettled with our physical activity – I missed yoga as a part of my life, and he wanted to requalify for the Boston Marathon and qualify for the New York City Marathon. We are a blended family and navigating what that means. We work together in my family's business, so there was a lot to dig into there. It wasn't easy to talk through, but over the course of all day Saturday and most of the day Sunday, we did it.
We didn't leave the retreat weekend with a to-do list or a new magical way of thinking. Our "problems" weren't solved. We didn't find any quick fixes. We don't have the perfect marriage. We don't have the "answers" for everything that challenges and frustrates us. But we were able to identify small things we could do to take the first step toward helping us reach our goals. At the end of the weekend, we felt more connected, we knew what each other's goals were and we knew how we could support one another.
We didn't start gaining traction on our goals, because we didn't have a way to regularly check in on them. About four months after our "couple's retreat," we started using The One Thing's 411 tool. Every Sunday night, our 411 helps us get clarity and keep the focus on our priorities for the week, month and year. It's helped us improve our communication about what is important, what we are working on and gives us a chance to ask for and know how to better help one another.
By discussing, tracking and supporting each other, we've been able to meet our main exercise goals. This summer, I averaged four yoga classes a week, and I've reestablished yoga as a consistent part of my weekly routine. After a long summer of training, in September, Scott's finish time improved by 11 minutes, resulting in a personal best time of 3 hours and 7 minutes, which qualifies him for Boston and New York City's marathons.
We're excited about what is in store for the upcoming year and planning for it at our next retreat. We booked a hotel this year and have the questions printed. I'll be getting our financials updated, and Scott is in charge of logistics.
If the questions at the beginning of the article piqued your interest, check out the guide (it's free) for the full list. No couple's retreat will look the same, and it might not end up being exactly what you plan for, either. The important part is to commit the time and energy to connecting with your spouse.
If you want to hear a few couples talk about their experience with The One Thing's couple's retreat, check out podcast episodes 208, 209, 210 and 211.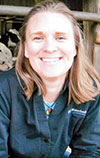 Amy Throndsen

Chief Operating Officer
Advanced Comfort Technology Inc.