Sitting in our combine, harvesting this year's corn crop, gives me lots of time to think. On a recent pass back and forth down the corn rows, I started thinking about what the rest of my family was doing at that very moment.
I knew our son, Michael, was at his off-the-farm job at our local TV station. I knew my husband, Farmer John, was the one shuttling the corn wagons to and from the field I was harvesting. Grandma Karen was feeding calves, and our employee Katlyn and our daughter, Sara, were milking cows. Just like that, it hit me – combining, milking cows and calf chores were all being done by women.
Growing up in the '60s and '70s was a whole different deal. My mom, sister and I were the housekeepers, the meal preparers, the laundry ladies. Responsibilities outside the house would involve lawn mowing, gardening and caring for the chickens. We never worked with the cattle. We never drove a tractor – never helped with planting or harvest. That was a man's work. This was the norm "back in the day" for my family and neighboring farm families in my area.
I understand every job is valuable. Everything needs to be accomplished. But what I find interesting is that in my childhood, there were defined roles on the farm. My dad and brother, and it was similar in the other farm families I grew up with, were always the ones caring for the cows and driving the machinery. My sister and I never questioned our roles as we knew my brother would be the one to do chores with my dad and my sister and I would be with mom.
This morning at breakfast, my husband and I were discussing a program on RFD TV that highlighted a woman who lived on a hog farm. Farmer John referred to her as a hog farmer's wife. I snickered a little, thinking, "Wow! This is so wrong. Why is she called the wife of a hog farmer rather than just a hog farmer?" Farmer John obviously grew up in the same era I did: The man was the farmer; the woman was the farm wife.
Now don't get me wrong; I respect everyone's opinion. I appreciate everyone's point of view. People need to do what works for them on their farms. I just love that women are getting the opportunity to choose their role in the agriculture industry. Whether it be milking cows, selling feed, a mechanic at the implement dealership, a veterinarian or driving the milk truck – hats off to the women who made the choice that works for them!
Janet Bremer has a blog and is also on Facebook and Twitter.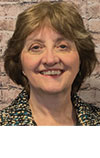 Janet Bremer

Dairy Producer
Hastings, Minnesota