One of our first Christmases together as husband and wife was a disappointing one.
Heading into Christmas as a newlywed, I was working my first full-time job in journalism as copy desk editor at a local newspaper. I took the job because they had indicated during the interview process that the managing editor was planning to retire and they would groom me to be her replacement. The promised track for promotion was enticing.
Several months into the job, the promising promotion track got derailed when the publisher who hired me left for other work and the search for a new publisher began. "Corporate" would now make the decision about the new managing editor and the position I sought.
I interviewed nonetheless and held out hope that my internal experience would trump any other candidates' résumés.
However, on a Friday, the night before Christmas Eve, I learned that I did not get the job. I was devastated.
I couldn't even tell my wife the bad news in person because she had left ahead of me to rendezvous with her family and prepare for Christmas together. I didn't tell her immediately and waited to call her with the bad news when I was en route. Somewhere during the eight-hour drive from our apartment to her parents' house, I called and let her know the bad news. A surprise that felt to both of us like getting coal in our stockings.
Whether the plan was to cheer me up when I arrived or just to go and do something fun together, I don't know, but we went bowling on Christmas Eve that year. I'm not a great bowler, but it was a fun evening. It was a brief distraction from an otherwise disappointing time.
Every year since then, we've bowled on Christmas Eve. It's now one of our family's Christmas traditions. I look forward to it each year. (My bowling scores haven't improved since that first year, though.)
Maybe I enjoy it because it's a fun diversion from whatever current stressors exist. Maybe I enjoy it because it's a reminder to set aside Christmas as the transcending event it should be. Maybe I enjoy it because despite bowling while in the depths of that year's Christmas misery, the story did have a happy ending. Maybe I've come to associate bowling with the turning point toward a better future. Isn't that what Christmas is all about? Isn't that what Jesus' birth was supposed to symbolize?
During the next few months after that Christmas, I found my career with Progressive Dairy and have been happily employed ever since.
As for this year, I'm not sure we will be able to bowl in person due to COVID-19 restrictions. We'll see if our local bowling alley is closed. If all else fails, I plan to hold a virtual bowling party on our old Nintendo Wii at home.
That first unfortunate Christmas and the bowling tradition that started from it has influenced how we celebrate each year since. I've learned that tradition can grow from Christmas heartache, if you allow it. Derailment does not define Christmas. Disappointments do not define Christmas. Jobs (or a lack thereof) do not define Christmas. Even bowling or presents (although a lot of fun) do not define Christmas. Those are just the accessories, like ornaments hanging on a tree. Christmas and the hope Christ brings transcend all of these, if we let it.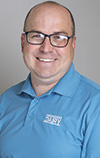 Walt Cooley

Managing Editor
Progressive Dairy