For the last year and a half, I have worked part time as a waitress. Initially, it was to earn extra cash and get ahead on my loans. Little did I know it would totally change my perspective on advocating for the dairy industry.
I'm 100 percent certain that serving tables has taught me more about sales and customer service than any job or college class. Why? Because my total income depends on me being good at it. There was no base salary. My paychecks averaged 35 cents; Making people happy and earning tips is the only money I'll make.
As I became better and better at this gig, I started to realize that the lessons I learned and tactics I was using were relatable to promoting dairy products. I could sell more dairy products through the key dishes I'd recommend a customer.
"Would you like extra cheese with that?"
This was a direct and immediate way for me to increase dairy consumption. As a waitress I was able to:
Offer children milk as the first option as a drink
Recommend the pizza – they were large, super cheesy and seriously delicious
Bring additional cheese out with pasta and pizza dishes
When they asked about desserts, I said my favorites were the two that involved ice cream
It was never a forced conversation, and many of my customers never even knew I was a dairy farmer. It was a natural conversation, and an easy way to increase their dairy consumption. I learned that it doesn't matter where you are or what you are doing, there is a way to promote and encourage our industry's offerings.
If the customer doesn't like it, the customer doesn't like it
It's as simple as that. Sometimes, I would find myself suggesting something to a customer, trying to explain to them why they should like it the cook's way.
"We recommend the bison burger medium rare because it's a leaner meat and tends to easily overcook and dry out if you cook it too long." Basically, I was saying, "You're wrong; I'm right." That ruined my credibility and decreased the tip I was going to receive. The poor guy just wanted a medium-well burger, not medium-rare.
I'll do this while talking about dairy products, even when I am not serving customers as a waitress. I obsess over converting someone from nut milks to dairy milk. Sometimes, I'm missing a better opportunity. For example, I have a friend who loves almond milk because of the texture it adds to her smoothies. It's as simple as that – she's not changing her mind, even though I've told her several times about the lack of nutritional value in her beverage choice.
But you know what else she loves? Cottage cheese and yogurt. Instead of pushing a product that she didn't simply like, I could have been offering new brands of yogurt I thought she would enjoy or giving her tasty fruit and cottage cheese combinations. I learned before approaching a potential consumer, I need to step back and determine:
What is a person willing to consider and try?
What do they simply not like or want?
You have to serve on a personal level
The aura (or vibe), the restaurant's Facebook page and the great Yelp reviews all get consumers to places. Now you need to dig in deep with each customer at the table. They're all there for our great music and the seafood steam bar, but there are so many options even within that specific menu.
"Who likes a little spice? Go for the jambalaya or gumbo – you can pick your own spice level."
"You prefer red sauce? Definitely the shrimp and scallop marinara pasta."
"Craving a lighter meal? How about the blackened salmon salad or crab Caesar salad?"
I can relate working consumers through a seafood menu back to a topic we need to do a better job of covering in dairy. Health food is something that people talk about, but there is no real definition or clarity over what it really means. Are consumers talking about food post-workout? Alternatives to unhealthy favorites? A mom wondering what she should feed her kids? It's our responsibility that we listen and learn about each and every concern, before we assume what a consumer wants to hear.
"I see you post about drinking shakes after working out. Have you ever tried a Core Power? Big on protein, low on sugar."
"I saw you're looking for healthy picnic food alternatives this summer. Have you ever tried making your veggie ranch or dill dip with plain Greek yogurt?"
"My go-to after-school snack for the kids are sliced apples and string cheese. Quick, easy and healthy!"
I'm coming to the end of my waitressing career, but I'm grateful for the opportunities, friends made and the lessons I've learned. I challenge you to think of a nondairy-related job, community club or organization you're involved in. How can you smoothly and effectively slide your dairy promotion efforts in? And when you do, how can you share your success with the rest of us?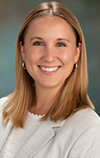 Rebecca Shaw

Dairy Marketing Specialist
Cargill
PHOTO: Photo courtesy of Getty Images.