My husband, Eric, and I have officially been owners of the farm for almost three months. We finished our corn silage recently, which made our first summer of harvesting our own crops complete. This means we have survived busy summer weekends, crazy weeks, finding a babysitter and everything else that comes along with farming in a summer.
As we stood and looked at that huge pile of feed that's ready to get us through the winter, I made a mental note to not forget to say thank you to everyone who helped. After I recovered from the work of covering the silage pile, I had some time to reflect. I thought about when we used to chop our own feed. The days upon days of work my dad used to have. Now, our longest harvest is corn silage, and it takes a day and a half with our harvesters. I am so thankful for technology and modern equipment.
Our employees hung with us through this busy time too. There were times when one or both of them stayed until 8 p.m. They helped cover so many piles, which means they carried lots of tires. They did this work on lots of hot days. I rarely heard a complaint about it too. Family members showed up whenever asked. Sometimes when they weren't asked, they simply offered to help. For someone who doesn't have any skin in the game, showing up is extremely valuable to those of us who do.
We couldn't have done this ourselves – that's obvious. Remember to be thankful for all of the technology and people who help you. I try to say thank you as much as possible because those two simple words go a long way. When I was younger, a boyfriend asked me why I always thank the employees. My response was simple. I told him they didn't need to show up and I appreciate them coming. He looked at me and said, "You pay them; you don't need to thank them." The fact that he completely didn't get it made me sad.
We all need money to live, but it's not all about money either. Each and every one of us wants to know we are appreciated sometimes. At the end of the busy season, don't forget to say some simple thank yous to the people who made a difference. You might be surprised of the difference it will make.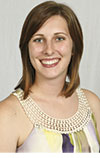 Ashley Messing-Kennedy

Dairy Producer
Bad Axe, Michigan
Before commenting on our articles, please note our Terms for Commenting.