As a manufacturer in the manure and ag industry for 44 years, Bazooka Farmstar decided to offer a new event for the industry that would allow 100 manure applicators and farmers to participate in one-and-a-half days of entertainment, education and equipment.
The first "Let's Talk Shit" event kicked off on July 16 with an all-American cookout at the Riverside Casino and Golf Resort in Riverside, Iowa. Bazooka Farmstar's own Lee Klett and his brother provided the evening's entertainment. The Kletts are members of a three-man band called The Boys, which play country and rock music.
The next day, attendees from all over the Northeast and Midwest rotated through three different panel discussions featuring nutrient applicators, industry experts and company engineers.
Brad Lampe with Bazooka Farmstar led a panel of nutrient applicators, which included Marcus Davis, owner, Magnum Custom Enterprises; Chad Tasch, owner, Tasch's Custom LLC; Jerry Loxtercamp, owner, Jerry's Pumping LLC; and Aaron Ross, owner, Lagoon Pumping and Dredging Inc. With a lot of years of experience on the panel, they shared their thoughts on the types of toolbars they use, managing labor and keeping the flow going by minimizing downtime.
The industry expert panel comprised of Glen Arnold, associate professor and field specialist, Ohio State University; Rachel Rinner, owner, Knee Deep Solutions; Melissa Wilson, assistant professor and extension specialist, University of Minnesota; and Heidi Vittetoe, owner, JWV Pork; and was led by Daniel Andersen, associate professor, Iowa State University. They discussed how a shortage of custom applicators and changing weather patterns are inspiring new ways to look at applying manure – in particular, side-dressing corn.
Lastly, Bazooka Farmstar engineers Jason Albright, Chad Harl, Terry Main, Eric Svenby and Kevin Wolter, along with James Bodels, a hose specialist from Gollmer & Hummel, answered questions from the group about the equipment offerings. The primary topics centered on rebuilding Tier 3 engines, hose manufacturing and toolbar options.
After lunch, everyone traveled to the company's headquarters in nearby Washington, Iowa, to see demonstrations, equipment on display and a tour of the 110,000-square-foot manufacturing facility purchased in 2009. Everything from fabrication, machining, welding, washing, painting, final assembly, shipping, sales and marketing is done in-house to control the quality of the equipment. There is also a portion of the building dedicated to auger flighting assembly. Bazooka originated as a grain auger business, and it picked up its manure portfolio when it merged with Farmstar.
The event offered plenty of opportunities for custom applicators and farmers to network about manure application topics and see various equipment options. Eric Hahn, Bazooka Farmstar managing partner, said the company is already planning to hold the event again next year.
PHOTO 1: Industry experts, left to right, Daniel Andersen, Heidi Vittetoe, Melissa Wilson, Rachel Rinner and Glen Arnold talked about how the manure application business is changing and adapting to current industry conditions.
PHOTO 2: A hose reel demonstration at the factory showed how the quantum-drive unit, right, outperformed the chain-drive unit, left, in speed of rollout and pick up.
PHOTO 3: As rain clouds encroached over the 85-foot boom truck, it was time for a tour of the factory.
PHOTO 4: Pump trailers, hose reels and toolbars are assembled in a multitude of welding bays in the center of the facility.
PHOTO 5: Once painted, final assembly of a toolbar begins. The company completes one toolbar every four days.
PHOTO 6: Bazooka Farmstar engineers and a representative from Gollmer & Hummel addressed equipment-specific questions. They were, left to right, Terry Main, Jason Albright, James Bodels, Kevin Wolter, Eric Svenby and Chad Harl. Photos by Karen Lee.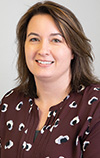 Karen Lee

Editor
Progressive Dairy