Every year, World Dairy Expo attracts over 70,000 visitors, but there's more than the international showcase of the industry's best animals and heart-pounding competition that keep dairy lovers flocking to it. The expo offers visitors an action-packed week, and the excitement is not just on the colored shavings.
Enhancing the on-site experience for attendees and exhibitors is a WDE mission that continues to grow. This year, the expo is proud to be returning both previous favorites and new attractions – all sure to please dairy enthusiasts of all backgrounds and ages.
Any time you feel the need to step away from the glitz and glam of the ringside, here's a sampling of the hottest things to help make the most of your week.
Places
The Tanbark
New for 2017, this is a pub-style restaurant that comes complete with a full bar and will be WDE's official watering hole and hangout. If you're looking for a place that feels close to home where you can sit back with a drink and enjoy a favorite comfort food, this is it.
Features: Daily lunch will be served from 11 a.m. to 1 p.m., live screenings of shows on EXPO TV will be featured throughout the day, and a happy hour from 4 to 6 p.m. will be featured every evening thanks to various sponsors. Open 11 a.m. to close.
Location: Estrumate Sale Pavilion, on the East end
The Expo Family Lounge
Sponsored by Dairy Girl Network, the expo provided this space for families with young children for the first time last year. The lounge offers the perfect escape from the usual expo hustle and bustle by offering a quiet, comfortable family environment.
Features: Couches, changing table, a nursing station and more are provided. Refreshments are made available to visiting families, courtesy of Dairy Girl Network.
Location: Madison Room on the upper level of the Exhibition Hall
Activities
Expo in the Evening
This free event will be returning to WDE this year after its debut in 2016. Refreshments will be available with square dancing and live music by the local Americana and bluegrass band "Wheelhouse."
Features: Open to the public, 8 to 11 p.m. on Friday night.
Location: At The Tanbark in the Estrumate Sale Pavilion
WDE welcome reception
The annual WDE kickoff welcomes all attendees and stakeholders. This event gives a perfect opportunity for everyone to come together, celebrate dairy and exchange stories. A banquet concludes the evening with tickets available for purchase on WDE's website.
Features: Open to the public from 5 to 6:30 p.m. on Wednesday with banquet to follow (tickets required)
Location: The Exhibition Hall
Expo virtual farm tours
Always a popular stop, these tours bring some of the most outstanding dairies across the country right to the expo. The farms selected exemplify some of the latest innovations and technologies available. The tours involve a visual presentation and open discussion with presenters. Times and farm descriptions are available on WDE's website.
Features: Virtual tours will be made available throughout the week. The sessions will be available for viewing live and recorded on WDE's YouTube channel and website.
Location: Mendota 1 meeting room of the Exhibition Hall
Seminars
WDE continues its tradition of providing some of the best dairy seminars available. The eight seminars offered will cover a wide range of industry hot topics, including the dairy market, trends, manure processing, reproduction and nutrition, just to name a few. Times and descriptions are available on WDE's website.
Features: Various seminars offered by an array of accomplished industry professionals will be conducted throughout the week. Recordings will be posted on the expo website.
Location: Mendota 2 meeting room of the Exhibition Hall
Especially for youth
FFA scavenger hunt
WDE is proud to again be offering its free texting scavenger hunt, exclusively for FFA members. On Tuesday, participating members will be given a series of questions to answer and must work their way through the expo for answers. Those who complete the hunt are eligible to win a free T-shirt. Participation: Text HUNT to (727) 4-WDEXPO to participate.
FFA seminars
Seminars geared specifically toward FFA attendees will be happening on Tuesday. Be sure not to miss out on learning about different industry topics and how to be a great agriculture advocate directly from young industry personalities. Times and synopses available on WDE's website.
Features: Speakers include Alice in Dairyland, the Wisconsin FFA state officer team and a representative of Crave Brothers Farmstead Cheese.
Location: Mendota 1 and 2 of the Exhibition Hall
Jaclyn Krymowski is a 2017 editorial intern.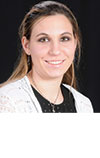 Jaclyn Krymowski

Staff Writer
Progressive Dairyman