The 2019 North American Manure Expo was held July 31 – Aug. 1 at Fair Oaks Farms in Indiana. It included tours, a workshop, seminars, equipment demonstrations and a trade show featuring nearly 70 exhibitors.
The two-day event started with a variety of species-specific events. There was a dairy tour, a beef and poultry tour and, for biosecurity reasons, a swine workshop.
The dairy tour showcased a newer manure treatment system from the farm to manufactured fertilizer. It started at Windy Ridge Dairy, operated by the Bos family. Here, vacuum trucks cleaned the freestall barns and regularly deposited manure into a receiving pit at the farm's in-ground digester. The excrement from the digester is pumped under the driveway to a building where the fibers are extracted by a rotary screen press.
They target 34% dry matter and can use it for bedding in the stalls that same day. The effluent is mixed with a polymer and pumped to a second building into two large dissolved air flotation (DAF) tanks and then through a set of multi-disc presses. The sludge from the DAF tanks is 8% to 10% solids. After the presses, it is 20% to 24% solids, which is stackable.
"We are able to remove 40 to 50 percent nitrogen, 85 percent phosphorus and 15 to 20 percent potassium from the manure," said Derick Van Nes, vice president of agriculture sales and sustainability at Trident Processes Inc., the company behind this separation system.
Ninety to 110 tons of the stackable nutrient cake leaves the farm and currently goes to a compost facility. This same nutrient cake generated at another nearby farm, Prairie's Edge Dairy, is sent to Midwestern BioAg, which was the next stop on the tour.
The cake comes in via trucks and is unloaded into hoppers at the facility. The system is set up to blend up to 11 different fertilizer products with the nutrient cake, before being granulized into a product that can be efficiently stored, transported and applied on fields across the country.
"The cake is a carbon source within the fertilizer. Other commercial options don't add organic matter," said Carl Ramsey, digester operations manager, Prairie's Edge Dairy Farm. "This is a value-added manure product. We created a product we feel is better for the farming system."
The granulated fertilizer is currently sold in bulk into northern Illinois, Wisconsin and Michigan.
The tours and workshop were followed by agitation demonstrations and four different industry presentations to round out the first day.
The second day included more demonstrations, this time featuring prototypes in both liquid and solid manure application. Also offered throughout the day were 24 different educational seminars focused on nutrient management, soil, safety and new technologies.
The 2020 North American Manure Expo is scheduled for Aug. 26-27 in Listowel, Ontario, Canada.
PHOTO 1: Three different manure agitation boats were stirring up a manure pit during the equipment demonstrations.
PHOTO 2: In this building at Windy Ridge Dairy, large manure fibers move up the conveyor to a storage area, while the effluent from rotary screen separators is mixed with a polymer before being transferred to DAF tanks in a second building.
PHOTO 3: People lined up to see the liquid manure application demonstrations.
PHOTO 4: A local applicator brought in a manure tanker he adapted with method to suction manure from a transfer truck.
PHOTO 5: Before the solid manure application demonstrations, Oxbo demonstrated a way to move compost. This prototype is a sweet corn harvester adapted with an auger head to pick up compost and convey it into a truck.
PHOTO 6: Nearly 70 commercial exhibitors set up a display in the trade show area at the Fair Oaks Farms visitor center. Photos by Karen Lee.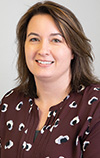 Karen Lee

Editor
Progressive Dairy