Dairy producers, processors and retailers gathered for the first-ever Dairy Experience Forum in Bloomington, Minnesota, July 24-26, hosted by the American Dairy Association of the Midwest.
The unique program centered around customer engagement to build dairy demand, while bringing to the forefront both the challenges and opportunities that lie ahead for marketing dairy products and, ultimately, securing their position on grocers' shelves and in consumers' shopping carts.
The interactive program appealed to the senses as attendees listened to thought-provoking discussions, tasted dairy and alternative products, and saw a glimpse of what food production and purchasing could look like in the not-so-distant future.
The impetus for this non-traditional meeting stemmed from a chance encounter on an airplane that spurred Midwest Dairy's CEO Lucas Lentsch to rethink how the dairy community reaches out to consumers. In a conversation with a fellow passenger, he realized the educational talking points ingrained in his mind did not resonate with this millennial-aged woman.
"That conversation was a monumental shift for me, and it really made us, as a staff and corporate board, start talking more intentionally about the 'conflicted consumer.'"
Lentsch described the "conflicted health seeker" as "someone we are trying to bring back to dairy." He added, "This is the bull's eye of who we are trying to reach nationally and locally."
"Consumers may have the wrong information, but they are never wrong about how they feel," Lentsch said. "You can't just educate your way into someone's pocketbook or diet … we have to engage them."
Real talk from real consumers
The conference kicked off with a consumer focus group moderated by Jan Johnson of Millennium Research. Six diverse panelists took the stage to openly and honestly answer questions related to their dairy purchasing and consumption habits. Their responses revealed each panelist was a regular dairy consumer; however, their choices were driven by reasons such as cost, freshness and taste preferences.
Some admitted they struggled with the palatability of fluid milk and the texture of cottage cheese. Nutritional content was a strong motivating factor for some panelists looking to add affordable sources of dietary fat or protein for overall health, children's growth or athletic performance. One panelist even purchased yogurt as a probiotic source for her dogs.
When questioned regarding their views on dairy farms and dairy farmers, each panelist seemed to have a positive opinion and sense of appreciation for the hard work that goes into it. A few even had personal experiences that tied them to dairy farms within their extended families. However, their trusted sources of information included doctors, bloggers and cohorts within their social media communities.
The future of food
Mike Lee, food designer and founder of Alpha Food Labs and The Future Market, tapped into the consumer mind on an even deeper level as he overviewed up-and-coming trends in and around food. Food is now becoming an extension of identity, he explained, validating that point with data showing, for the first time ever, teens are spending more money on their food than their clothing.
The pattern of the 21st century eater is to focus on health, experience and sustainability. What does this mean for trends related to dairy? It means great opportunity exists for full-fat dairy products, as well as those that fall into the premium artisanal tier and have a story to tell.
Lee also described the "flavored white space," noting an increasing appetite for classic products with a distinctive twist. For example, specific or exotic-sounding flavors are preferred over the generic, such as yogurt with a hint of gili cherry or clingstone peach.
While dairy foods are still differentiated from alternative "milk" products on terms of taste, Lee warned that may not be the case much longer. "There is a gap in taste with these plant-based alternatives, but we have to prepare for that gap to be closed."
Conference attendees then got a chance to experience some of these plant products for themselves and compare them with dairy and other beverage choices.
Lee acknowledged the dairy industry's sustainability platform has the potential to connect with consumers, but it must be done on their terms. "Facts are great, but what does sustainability taste like … what does it do for me?" he said. "We have to find a way to make sustainability a selfish pursuit [for the consumer]."
Consumer connection was also emphasized by Brad Gruen, vice president of marketing for fairlife brands (photo above). "The world we live in is values," he explained. "It's about what consumers buy into, not just what they buy … You want consumers to be emotionally attached."
Gruen was joined on a panel by Chad Vincent, CEO of Dairy Farmers of Wisconsin, who further validated the importance of this connection. "Trust in farmers/farming is vital. One of our biggest drives is humanizing farmers," he explained. "If we're not telling a story, we are leaving a void for others to tell the story."
Dairy demand: Domestic and global
Marin Bozic, a dairy economist and assistant professor at the University of Minnesota, shared his views on domestic dairy demand trends as well as the estimated U.S. exportable surplus and potential for international dairy trade. According to his outlook, some milk fractions bode better than others.
"We really don't have to export any butter," Bozic said. "We'll find a home for it in the U.S."
On the contrary, nonfat milk solids are set to outpace domestic demand, making the export market even more critical to the dairy farmer's dollar. Bozic estimated the U.S. would need to export as much as half of the incremental solids-not-fat over the next decade to take the pressure off of producers' profit margins.
"Relying on world trade growth is not enough," he warned. "In order to export enough, we have to gain an edge over our competitors. Are we in a position to do that?"
Here on the home front, there is positive news for dairy's place in the American diet. Joanne Slavin, Ph.D., a registered dietician nutritionist with the University of Minnesota, shared her experience working with nutrition policy, specifically the Dietary Guidelines for Americans (DGA).
Every five years, the DGA updates food and beverage recommendations to promote health and prevent disease based on the most recent nutritional science available.
"You've got to fight for your position with the dietary guidelines," Slavin said. "The dairy people have been smart enough to publish a lot more scientific documents than the other commodities."
Listening sessions are currently underway for the 2020-2025 guidelines. Slavin said milk, cheese and yogurt are all "foundational foods in healthy eating patterns," though anticipated changes to the recommendations include added sugar limitations on yogurt and flavored milks, along with reducing saturated fat and sodium. Slavin emphasized the value of the dairy industry's emphasis on funding scientific studies.
"Investing in research and science does make a difference," she said.
In addition to the educational sessions, the forum included Midwest Dairy's eight division meetings and corporate board meetings. According to Lentsch, dairy producers appreciated being included in the conversations that took place at the forum.
"It's important to celebrate our farm families and give them a venue to be part of a conversation, not just with ourselves as farmers but with the whole supply chain," Lentsch said. "Cooperative leaders, processors, retailers, food service professionals, and we have a real nice cross-section of the supply chain here on year one. I look forward to a more robust discussion next year."
PHOTO: Brad Gruen (center) explains the importance of values with marketing the fairlife brand. He was joined by Chad Vincent from Dairy Farmers of Wisconsin (left) on a panel moderated by Michael Dykes (right), president and CEO of the International Dairy Foods Association (IDFA). Photo by Peggy Coffeen.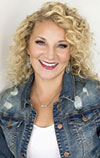 Peggy Coffeen

Editor
Progressive Dairyman