Back where it all began, the 2017 North American Manure Expo was held Aug. 22-23 at the University of Wisconsin Agricultural Research Station in Arlington, Wisconsin.
This unique event for farmers, custom applicators, researchers and equipment manufacturers was founded in Wisconsin and has since traveled around the Midwest, over to Ohio, Pennsylvania and to Ontario, Canada.
The theme, "Innovation. Research. Solutions." was apparent throughout the course of the event.
Innovation
The event started with tours to see new innovations adopted on farms. Statz Brothers Inc. in Sun Prairie, Wisconsin, showcased its manure digester and bedding recycling facility. In Waunakee, Wisconsin, Endres Berryridge Farms is scaling up a compost operation at its heifer facilities to recycle as bedding and top-dress on alfalfa.
At the University of Wisconsin's dairy farm, a new sand processing and recycling system is in use, and the swine facility has a manure settling system. This third tour also featured a stop at manure runoff research study plots.
Research
The results from several recent research studies were presented during the event's education sessions on Wednesday morning. Four different tents offered six sessions each and covered the topics of safety, nutrient planning, application methods, loss reduction and public perception.
Solutions
A trade show, industry seminars and equipment demonstrations over the course of the two-day event offered commercial solutions that can be applied on-farm. Equipment for liquid storage agitation, solid and liquid application, compost turning and side-dressing crops were demonstrated.
Mark your calendars for the 2018 event to be held Aug. 15-16 in Brookings, South Dakota.
PHOTO 1: The equipment demonstrations were a big draw.
PHOTO 2: Solid spreaders filled with compost displayed their application range.
PHOTO 3: A variety of companies set up stations in the trade show to offer solutions for farmers and applicators. Photos by Karen Lee.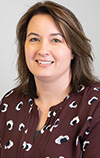 Karen Lee

Editor
Progressive Dairyman