About 100 women arrived at Legacy Farms in Shell Lake, Wisconsin, for the Vita Plus Chick Day on Friday, Aug. 19. After the rain clouds parted, the day began with a short history of the farm.
The Schloneger family – Rodney and Brenda, along with their sons Josh, Reuben, John and Noah – have been farming in northwest Wisconsin for almost 40 years. The farm has grown from 153 acres and 30 cows in a stall barn to 2,000 acres and 950 milking cows.
The group was split to tour various areas of the family farm, from the original freestall barn, to the new cross-ventilated barn, to a discussion with the farm's operations manager.
The afternoon included three breakout workshops that were accompanied by heavy rain showers.
Sadie Frericks, dairy producer and blogger at Dairy Good Life, held a cooking demonstration of a full meal, including a pasta main dish, salad with vinaigrette and a dairy-filled dessert.
Jim Lewis of Vita Plus talked through the low-stress cattle handling techniques first taught to him by his grandfather and enhanced by working with experts across the U.S.
Gary Sipiorski of Vita Plus led a session on the dairy market's ups and downs, as well as key financial metrics every farm should keep an eye on.
The rain showers ended again just before dinner, when Whitney Deist Rowley, owner and founder of Whitney's Workouts, shared how the personal struggles she's had in life were turned around by positive thinking.
"You can't have success without passion and positivity," Rowley said. She is now living out her dreams as a fitness leader, helping people fulfill their own life goals.
Rain wasn't the only water flying though the air that day. A dunk tank was on site to raise money for the Special Olympics of Wisconsin. Several brave Vita Plus employee-owners enticed attendees to open their purses for a good cause. Nearly $1,900 was collected for this charitable organization.
Despite the rain, a fun day of learning and networking was had by women from across Wisconsin and Minnesota.
PHOTO 1: Nearly 100 women – along with the Schloneger family, who hosted the event in Shell Lake, Wisconsin – participated in the annual Chick Day event held for Vita Plus customers.
PHOTO 2: Dan Coates, the farm's operations manager, right, answered questions after talking to the group about management tips he's learned.
PHOTO 3: Sadie Frericks adds parmesan cheese to a salad during her cooking demonstration.
PHOTO 4: Whitney Deist Rowley gives a motivational speech to end the day.
PHOTO 5: Vita Plus employee-owners took turns in the dunk tank to raise money for the Special Olympics of Wisconsin. Photos by Karen Lee.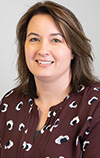 Karen Lee

Editor
Progressive Dairyman