Dairy farmers aren't the only business owners struggling to find and retain a labor force. According to Kurt Bauer, president and CEO of Wisconsin Manufacturers and Commerce (WMC), 80 percent of his group's members are having trouble hiring people right now too.
Bauer spoke at the Vita Plus Dairy Summit, Dec. 4-6, in Red Wing, Minnesota.
WMC is the state's chamber of commerce and largest business and trade association, representing 3,700 employers of all sizes and sectors of industry, dairy included. When the group was started eight years ago, Bauer said the Wisconsin unemployment rate was at 6 percent, and it has since dropped down to 2.9 percent.
Bauer explained the labor shortage affecting Wisconsin and other rural areas of neighboring states is the result of multiple factors, including the following: a gap in skills, enthusiasm and population; depopulation; retention; talent attraction; and immigration.
The 'gap' problem
Bauer identified a few "gaps" that attribute to the lack of labor, starting with a population gap. He said the state replacement birthrate is currently lagging behind the number of older adults exiting the workforce. "In Wisconsin, we're not reproducing our labor force. … There's no one behind the baby boomers to replace them," he noted.
Compounding that fact is a gap in the know-how and the want-to of today's employment-age adults. "We have people, but they don't have the skills for the job," Bauer said. "But we can solve that with on-the-job training."
However, that's where an "enthusiasm gap" arises. He added, "People don't want the jobs we have, especially in agriculture and dairy."
Depopulation, retention and talent attraction
Rural areas of the Midwest are a hard sell for the millennial worker, who wants to "live in a cool, hip, urban environment," Bauer said. The Twin Cities, Madison and Chicago attract population growth with their amenities, while the more remote areas struggle to offer adequate access to grocery stores, health care, good schools and even broadband internet access. "This is a real problem for young people," Bauer added.
These factors combined pose a challenge in drawing workers back to the rural communities where they grew up, as well as attracting those from other areas to want to call nonurban centers home.
Immigration
Another prong to Wisconsin's labor shortage is the lack of policies that support foreign workers fulfilling the open positions, particularly in dairy and agriculture.
"I've often said immigration is out of our control [at the state level] because it's a federal issue, but I don't think that's going to cut it anymore," Bauer said. "We need to demand [our federal elected officials] do something about it."
He encouraged a vetted immigration program based on economic needs of industry for those people with the desire to become "good, productive Americans," and he did not believe these workers will compete with U.S. citizens for the same jobs.
Bauer added, "The bottom line is we need workers – low-skilled workers, medium-skilled workers, high-skilled workers."
Solutions
In an effort to solve these challenges, dairy farms and other business sectors are adapting automated technologies for some tasks, and each year, these technologies become better and more affordable. However, Bauer acknowledged there will continue to be a need for humans in the workforce. He encouraged dairy producers to initiate conversations with local educational institutions to inform and prepare young people for future careers.
"You need relationships with K-12, FFA and the technical schools. … We need to make sure we are reaching out to tell schools what we need," Bauer said. He believed farm tours, summer jobs, apprenticeships and conversations with the local school guidance counselor are all efforts to expose the upcoming workforce to the opportunities in dairy.
Appealing to people's personal hobbies and workplace needs is also critical to attracting a stable Midwest workforce. For example, some companies may target recruitment to potential employees who enjoy the outdoors and appreciate aspects of rural recreation, like hunting, fishing or snowmobiling. At the office, an atmosphere that promotes fun and comfort also draws workers in for the long haul. The attire at Bauer's office is no longer shirt and tie; it's all about "dress for your day," and he said, "The millennials love it."
Beyond these efforts, Bauer was adamant that real changes will come from the top down. Public policy determines competitive tax rates, which are shown to attract and retain the working age population, but much of what the future holds will be dictated at the federal level.
"We've got to demand action on immigration," he said, noting the importance of communicating with elected officials. "They need to have tough conversations about what it takes to move this economy forward."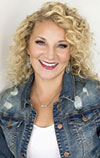 Peggy Coffeen

Editor
Progressive Dairyman