Four of World Ag Expo's top 10 new products in 2021 have direct application in the dairy industry. Progressive Dairy Editor Walt Cooley interviewed the companies behind these new technologies.
This article introduces each of the award winners and discusses how they might help dairy producers be more efficient and profitable.
RotaryMATE EXPSplus by Green Source Automation
A company with 15 years of experience in rotary parlor robotic arm technology has been awarded for its latest innovation. The RotaryMATE EXPSplus from Green Source Automation is capable of eliminating up to four of the functions typically performed by humans on a rotary milking parlor. The automation of these functions could save a dairy the cost of up to two employees per milking shift. The company claims it's the only technology on the market that can do more than just apply dip with the same robot.
The award-winning technology is a new two-function robot that can apply dip and remove dip (wipe).
Here's a summary of how it works: The product's robotic arm enters an occupied milking stall and sprays teat dip over the entire udder upon entry. While under the udder, the robotic arm's cameras locate individual teats and activate the arm's spinning scrub brushes. While the brushes are in action, the robotic arm pulses additional dip to ensure each teat has been sanitized. The spinning brushes flip away the dip and debris two teats at a time – the right teats first and then the left or vice versa. The robot arm then exits the stall having dipped, sanitized, cleaned, wiped and stimulated the teats prior to milking unit attachment. Two of the new robots together can do all of that at a speed of 4.2 seconds per milking stall. Or one of the new robots can do it in six seconds per milking stall.
"The results are a relatively dry and clean teat," says Brad Tripp, sales manager for Green Source Automation. "This not only creates more labor savings for the dairy farmer, but it provides a consistency in action that is not humanly possible."
The system is adaptable to any model of rotary parlor. The robot is able to sense independently from the rotary the speed of the rotary in order to be able to time its entry into a stall. If a stall approaches that is empty, the system can recognize the absence of a cow and defer operation until the next cow appears. The robotic system includes a variety of safety parameters that will prevent the robot from entering the stall if any unsafe conditions are present.
"The acceptance curve of robotic arm cow prep just got fast-tracked with this new product, and the major difference is the ROI," Tripp says.
Because the robot can now perform two functions at the same time, a dairy can eliminate up to two human positions in the prep routine. Tripp says this has decreased the time frame for a complete return of investment on the company's robotic arms from an average of two to three years to nine to 15 months.
"In the age of pandemic, there is a twofold economic impact when we reduce the human load within a facility as well as reduce the number of animal-to-human contact points."
The product was developed in 2020 and trialed on existing customers' dairies. Official rollout of the product will begin in January 2021.
ALUS Behavior by Cainthus
A company that took home a top new product award at World Ag Expo last year is a winner again. Cainthus, which brought its computer vision to the marketplace last year, is adding a behavior monitoring function to its technology's capabilities this year. The company's previous award-winning product – ALUS Nutrition – monitors feedbunks, determines when feed may not be available to cows and automatically alerts dairy managers.
"Once the cameras are installed in the barn, they have the ability to see more than just feed," says Cainthus' CEO, Aidan Connolly. "When we show our new product to people, they are genuinely gobsmacked by what they see."
The company's newest product, ALUS Behavior, tracks individual cow behavior. It differentiates whether a cow is lying in a stall, standing, eating, perched in a stall or out of a stall (milking or otherwise). It uses the data it sees about individual cows throughout the day to generate a cow comfort index – a number reported as a percentage for the whole herd. So for example, if a pen has 500 cows in it, and 400 of them are lying down in stalls, the cow comfort index for that pen would be 80%. The closer a pen gets to 100%, on average, the better.
Being able to see and track individual cow comfort and then herd-level cow comfort is a novel offering, Connolly says.
"This has never been done before, although other technologies have tried to do similar things," he relates. "It's the first time I've seen that number being made available to dairies."
Connolly says when producers first see their herd's cow comfort index, the number that seems to be most shocking is the variation from cow to cow.
"We're seeing a variation from between 10 hours of lying time to as much as 14 hours of lying time in the same pen," Connolly says.
Some of the discussions dairy owners and managers start to have once they have a baseline for cow comfort relate to pen stocking density, bedding choice and quality, and the efficiency of moving cows to and from milking.
"The feedback we're getting from customers is that we remove their bias to believe this practice or that practice is for sure a good thing," Connolly says. "Dairies haven't had the chance to watch their cows 24 hours a day, seven days of the week, 365 days of the year and then to use empirical, non-biased computer data to make a decision as to whether what they believe is true is actually true. That's the real insight that they get with this product."
After testing the product in California last year, it is now available commercially to all customers.
LOIS from Livestock Water Recycling
A company that wants to eventually eliminate the need for dairy lagoons and one of its artificial intelligence products is a winner this year. LOIS by Livestock Water Recycling offers a fully digital approach to manure treatment. The machine-learning product works in conjunction with the company's other technologies to treat and unlock the value trapped in manure lagoons.
"This data-driven, machine-learning technology creates fully automated manure treatment systems to increase operation time, decrease labor expenses and reduce the costs associated with operator error," says Lisa Fast, marketing and communications manager for the company.
The company claims it is the first ever fully digital approach to manure treatment, facilitating easier manure treatment. The company and its technology provides access to off-farm sales of renewable natural gas, fertilizer and carbon credits. The company anticipates the biogas market is set to expand massively over the next five years, with 200 expected biogas-creating installations going in on U.S. dairy farms.
"We expect producers to use LOIS to help increase farm revenues by accessing opportunities in the growing biogas market," Fast says. "Our objective is to transform manure into a valuable farm product and inform producers of the most valuable possible end-use."
The company's other technology – PLANT – is a patented nutrient recovery technology that creates worth from waste by concentrating manure into two high-value fertilizers while transforming the rest into clean, potable water. Previously, the company launched an automated polymer dosing system that uses inline sensors to read multiple parameters of manure in real time and make adjustments in treatment response. LOIS is a further extension of that system technology.
The technology has successfully been tested in parallel with manually operated systems and is expected to be installed on-farm in the spring of 2021.
Orbis 900 by Claas
(Cover image) The largest independent forage harvester header now available on the market is a top new product. The 30 feet of working header space on the Orbis 900 by Claas is just one of the new features available on the company's new header. It also folds and unfolds in under 20 seconds.
"When you are moving from field to field and you've got 10 trucks behind you, and they're all waiting to get off the road for the chopper to unfold, this is a huge benefit," says Matt Jaynes, a product manager for Claas.
Jaynes has seen a "major uptick" in demand for the product since it became commercially available for the upcoming forage harvesting season.
The frame of the new header is stamped from a flat piece of metal. It has no welded joints. The company claims this increases the strength of the header.
"The new frame is really important," Jaynes says. "Over a long period of time, you won't have to worry about any welds cracking."
As horsepower for forage harvesters continues to increase, Jaynes says that 12-row heads like the award-winning product are becoming the standard header size for the forage harvesting industry, surpassing 10-row heads. The recommended machine horsepower for the new head is 790 or higher.
The new product was in trial use this past harvesting season, including in fields in Iowa affected by the derecho winds in 2020. The performance advantages in down corn were extremely noticeable thanks to the new header's lower clearance – listed at about 3 inches. Jaynes says the lower clearance makes harvesting down corn – or corn planted in uneven ground – even more feasible.
"You can really make it suck up corn that has been laid flat. That corn in Iowa was the flattest I've seen. Most of it wasn't even ankle-high," Jaynes says. "There are photos out there on the internet of farmers discing that corn, while we could harvest it."
The new header isn't the only product creating sales buzz for the coming forage season.
"Sales have been up," Jaynes says. "Top producers are investing now in high capacity equipment that can handle tough harvesting conditions like those experienced in the Midwest this past season."
Despite not having a live show this year, World Ag Expo will hold a virtual trade show. Go to www.worldagexpo.com to connect online with vendors and watch nearly 50 seminars.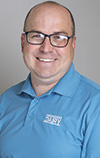 Walt Cooley

Managing Editor
Progressive Dairy