Like their counterparts throughout the U.S., the COVID-19 pandemic forced a pivot in the Mid-Atlantic regional dairy supply chain, from the farm to the store shelf. Panelists shared their business and personal experiences during the sixth annual Agriculture Law Education Initiative (ALEI) environmental and agricultural law conference, held virtually and livestreamed on Facebook in early November. The archived session, "Pivoting in a Pandemic: Risk Management during COVID-19," is available here.
Panel moderator Nicole Cook, environmental and agricultural faculty legal specialist with the ALEI and the University of Maryland – Eastern Shore, noted that Maryland lost about a quarter of its dairy farms between 2017-19. The new year started with the most optimistic outlook in half a decade.
Reames provides cooperative perspective
What appeared to be a light at the end of the tunnel at the start of 2020 turned into the oncoming freight train of COVID-19, creating a roller coaster for the dairy industry, said Lindsay Reames, director of sustainability and external relations for the Maryland and Virginia Milk Producers Cooperative Association (MD&VA).
MD&VA is a regional milk marketing co-op representing dairy farmer members who produce milk in an area stretching from New York to Georgia. The co-op operates four processing plants: two fluid milk plants and two dairy ingredient plants. Like other dairy processors throughout the country, the pandemic required a pivot in meeting the demands of a dramatically altered supply chain.
"We quickly saw orders come in from grocery stores that we had never seen before," Reames explained. Challenges included order fulfillment to ensure customers and consumers could get the milk they needed.
An initial step was to limit the product options going through their product lines. Previous investments in facilities allowed more flexibility to move milk where it was needed for processing, and no member milk was dumped at the farm level, she said.
Other steps included an increased focus on people protection and safety, from the farm level to processing plant employees. And building on its relationship with local communities, a number of members worked to establish food banks and purchased refrigeration units to store and to get milk in the hands of consumers in need.
"We were able to quickly pivot within our operations to ensure we could meet our customer orders," she said. "One of the outcomes is a steady increase in demand and going back to the essentials within the families that we serve."
Dairy producers share experiences
The pandemic affected dairy farms of all sizes, according to panelists Katie Dotter-Pyle and Brooks Long.
With her husband, David, Dotter-Pyle co-owns Cow Comfort Inn Dairy and Creamery, Union Bridge, Maryland. They and their six-member team manage a 400-cow dairy (mostly Jersey), with another 400 heifers and dry cows. In addition to her on-farm responsibilities, she teaches Spanish and business education in the public school system and instructs an online Spanish program that she's specifically designed for the dairy industry.
When the COVID-19 pandemic emerged, getting some supplies that had long been part of their milk quality and safety protocols and procedures – such as latex gloves and chlorine chemicals – became more difficult, although they never ran out. Already an important part of the farm's day-to-day operations, team member communications became even more crucial.
She said federal and state financial assistance programs – including the Payroll Protection Program (PPP), the Coronavirus Food Assistance Program (CFAP) and the Dairy Margin Coverage (DMC) program – became vital. With some uncertainty on the dairy income front, she accepted a full-time position as a teacher.
Cow Comfort Inn Dairy markets milk through Land O'Lakes. Despite supply chain disruptions, they were not forced to dispose of milk. However, one of Dotter-Pyle's personal education missions was to address the growing publicity and confusion related to dumping milk, especially as store shelves began to empty.
Not all the confusion was on the consumer side, she said. Some producers wondered why milk processed and packaged for food service (schools and restaurants) couldn't immediately be moved to retail channels. She created a video to show the supply chain, from the farm to the consumer. She's used the video to reach consumers and producers and used it in her business classes.
"I think the biggest takeaway from this is that we have supply chain management down to such a science in this country, and we should be proud of that fact," Dotter-Pyle said. "But because we have it down to razor-thin margins, you cannot turn it on a dime."
Long, a seventh-generation dairy farmer, co-owns Deliteful Dairy with his wife, Katie, near Williamsport in western Maryland, just north of West Virginia. The operation milks about 60 cows in a grazing system and has been shipping milk to MD&VA for about 60 years. They opened an on-farm fluid milk processing business in June 2019.
Long noted the pandemic hit just prior to the spring flush, a period of the year when managing milk supplies is difficult even in a "normal" year. Nonetheless, they were able to get through the season without dumping milk.
They participated in the PPP on both the farm and processing business sides, applied for payments through both CFAP 1 and CFAP 2 and a state economic assistance program.
"We don't want to have to live on government money, but in a situation like this, you really don't have a choice but to accept any help to weather the storm," he said.
COVID-19 led to additional complications. Long's father, who helps out on the farm, had a full-time job at a local auto parts store, heightening potential exposure and, at 68 years of age, made him more susceptible to the virus. Additionally, direct interaction with customers through the fluid milk processing business and retail store required attention to social distancing and other precautions.
It also created opportunity. With the coronavirus, sales of fluid milk through the on-farm store increased about 150% between February and April, as consumers switched from buying products at "big box" stores to making purchases from smaller, local outlets. As grocery stores struggled to keep shelves stocked, Long increased daily fluid milk processing schedules to 12-13 hours per day to meet consumer demand and did not have to limit customer purchases. They also brought in additional food products to expand their retail offerings and quickly set up an online store in increase customer access though pre-orders and curbside pickup.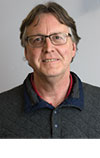 Dave Natzke

Editor
Progressive Dairy