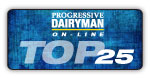 This article was #4 of the Top 25 most well-read articles on www.progressivedairy.com in 2013. It was published in the Aug. 1, 2013 Extra e-newsletter and the Sept. 1, 2013 print issue.
Click here for the full list of the Top 25.
Late this summer, Progressive Dairyman featured Wisconsin blogger Carrie Mess's now famous brush with Panera regarding their "EZ Chicken" campaign. We also featured an article from public relations consultant Charlie Arnot. He hinted that while Mess's efforts were authentic and effective, the ag industry should be careful not to come across as bullies.
We asked Mess,
Q. What was your reaction on reading Charlie's article? What would you do differently, if anything at all, if you had to do it all over again?
I think that his tips overall were fine. That being said, coming off as overly polished can be more of a detriment than a positive. People want to hear stories that are real and honest from people they can trust. Nothing sends a red flag up faster than a slick talker. If you remain respectful and open, there really isn't a wrong way to advocate for our industry.
If I had to do it all over, I would spend more time stressing my position that the marketing of the product was the problem, not the production practices of the poultry farmers. A lot of people got stuck on the idea that "antibiotic-free" chicken was the issue when the real issue was the message Panera was putting out about our food and the people who produce it.
— Carrie Mess, dairy producer, Johnson Creek, Wisconsin
ARTICLE:
Carrie Mess, a Wisconsin dairy farmer commonly known on social media as Dairy Carrie , found a way to make giant ripples in the industry through social media.
On Friday, July 19, Mess decided to have lunch at her local Panera Bread after a morning watching 4-H and FFA students showing dairy cattle at the Dane County Fair. While glancing at the menu she noticed the chicken described as "all-natural, antibiotic-free."
Mess snapped a quick photo of the menu and uploaded it to her "Dairy Carrie" Facebook page. Within hours the photo had been shared 134 times, had 234 likes and 81 comments.
Rollover the image below right to see the photo of the menu that she posted.
One of those comments revealed to Mess that Panera had gone even farther than just advertising their chicken to consumers as "antibiotic-free," but also was running a marketing campaign called EZ Chicken.
The campaign's central message stated that conventional farming was using the "easy way out" by treating chickens with antibiotics. The EZ Chicken campaign was illustrated through memes*. The chicken in the photos closely related a large pill and portrayed laziness.
See top right photo above for one of the memes Panera posted.
Mess, and a majority of her thousands of followers, viewed this as offensive to all farmers and ranchers.
So Mess took her message to the blogosphere. She wanted to share with her followers her anger as well as educate consumers on the marketing campaign. Read her blog, " Dear Panera Bread Company ."
"I was pissed off," Mess explains. "My best blogs are ones that I am passionate about."
Days later the blog had more than 140,000 views, been tweeted about more than 400 times, and "liked" by more than 9,300 users. To say Mess had initiated conversation is an understatement. She initiated an uproar.
Hundreds of readers took their disappointment in Panera's campaign to its Twitter and Facebook accounts. Customers demanded the campaign be stopped, the pictures removed from social media, an apology to farmers and ranchers and threatened to boycott the franchise completely.
"I could have tweeted until Twitter shut me down for tweeting too much. I could have posted on Facebook until I annoyed people, but nothing would have changed," Mess says. "It's the readers who read the blog and then told Panera how they felt about the marketing campaign that made the difference."
But why did a Midwestern dairy farmer become involved in an offensive campaign against chicken farmers, you ask? Mess says it doesn't matter what sector of the agriculture industry is being attacked, everyone needs to stand up for each other.
"You can't just stand around muttering to your neighbors about this or that," Mess says. "You need to make your voice louder, and social media is a great way to amplify your voice."
As if Mess had personally rallied social media troops, Twitter has experienced chaos regarding Panera's campaign. Hundreds of supporters of Mess' message are using #pluckEZchicken to show their disappointment.
Farmers are tweeting about their early morning duties around the farm to contradict Panera's claim that they're lazy, consumers are choosing not to eat at Panera for lunch and followers continue to share Dairy Carrie's blog. They are all joining to become a community because of #pluckEZchicken.
A week later from Mess' original visit to Panera Bread she received a call from Michael Simon, chief marketing officer for Panera Bread. Simon stressed that Panera never intended the EZ Chicken campaign to be offensive towards farmers and ranchers.
"I think that Panera realized that they have a lot of ticked off people on their hands," Mess writes in her follow up blog to the phone call. "The problem is that even after my conversation with Michael the company doesn't seem to understand that the problem isn't them using chicken raised without the use of antibiotics, the problem is using a marketing campaign that uses fear to sell sandwiches."
Mess says it perfectly in her blog post when she states, "Biting the hand that very literally feeds you isn't going to work out well for your company."
The message has been delivered: agriculturists will not stand for offensive marketing just so that a company can get ahead.
Mess' message reached people she normally would never have access to. She stood up for the industry she loves and encourages others to do the same. Agriculturists are passionate and tenacious in their line of work and should be the same in spreading the positive message of agriculture.
"When we do stand up and stand together, we have power." PD
*Definition of a meme: an electronic photo that may include text used to portray a sarcastic idea, belief or pattern of behavior
Related resources:
• Get to know a little more about Dairy Carrie's background in her HERd management column, " What's it's like to be a dairy wannabe ."
• Carrie was a participant in our 2013 Flavor Faceoff. Learn about why she chose to represent Babcock Dairy's Orange Custard Chocolate Chip .
Amanda Meneses
Progressive Dairyman
Editorial Intern