A documentary recently released by Portland State University professor Jan Haaken is offering a deeper look into the growing, changing dairy industry from both a small- and large-scale farm angle.
Haaken grew up in an agricultural community in northern Washington and has written several articles for Progressive Dairyman.
Several dairy farms in Whatcom and Skagit counties in northern Washington hosted Haaken while she filmed her documentary, appropriately titled Milk Men. From a 100-cow organic dairy and a 2,400-cow dairy in Washington to a 36,000-cow operation in Oregon, Haaken explores the dynamics of dairy farming and how farms are sometimes forced to grow and change in order to keep up with today's economy. "There were a lot of stories about the tragic loss of small family farms in the U.S., but I was interested in what it's like for the survivors, for the people who are still farming," Haaken says.
Haaken says there were several different pathways that led her to undertake this project. The first was growing up in an agricultural community with many relatives owning dairy farms. Another stemmed from her 35-year career as a psychologist and professor at Portland State University. "Most of my work has focused on stressful jobs carried out on the social margins," Haaken says. "I've done films in refugee camps, war zones, hip hop clubs and psychiatric hospitals, places that have become the focus of public confusion and anxiety because they are hidden from view. Dairy farming, with the increase of interest in the welfare of farm animals, seemed like a topic that was ripe for mystery and productive storytelling."
Haaken's project began with early morning conversations with several dairymen at cafes in the area where her relatives farmed. Haaken eventually persuaded the initially reluctant dairymen to allow her to visit their farms. "I said, 'As a psychologist, I can tell you if you don't tell your own story and people are curious about it, about what you're doing behind closed doors, somebody will tell it for you. So you can either tell the story yourself, or you can let other people define the story for you.' And they seemed to find that persuasive," Haaken says. "They really accepted me."
Another source of inspiration for producing this documentary was Haaken's work as a university professor. Haaken says that most of her students learn about dairy farming either through online PETA campaigns, which rely on "highly dramatic, morally shocking imagery" to express their message, or "highly airbrushed and romanticized dairy commercials" of 1960s vintage. "I really want to engage them, and it's a good thing that they're interested in moral issues around the welfare of animals produced for food, so I think the answer isn't to shout down PETA, but to try to look at the complexities of farming."
Even with that goal in mind, it was necessary for Haaken to adjust as time went on. She began with a David and Goliath story in mind. "I went into it thinking intuitively that most progressive filmmakers were right, that the only good farm is a small farm and that there is an inverse relationship between animal welfare and size and the quality of the farm and size. I had to abandon that pretty early on. I came to the conclusion that there is no direct correspondence between size and the quality of the farm."
This is not the only issue the film addresses. Other issues like farm succession, having to expand in order to survive and a dairyman's relationship to his animals are all explored in depth through the featured farms in this documentary. Haaken says she deliberately approached this project from an educational point of view. "It's not just an endorsement of them, but it raises questions and challenges stereotypes."
Haaken says she wanted to lay out the complexity of the dairy industry in a way that viewers would want to explore. "As an academic, a teacher, I'm always interested in challenging stereotypes and oversimplified notions about the world," she explains. "People can deal with complexity if it is presented in a thoughtful way. I don't think people are drawn to simple-minded caricatures."
Haaken says that she has gotten a warm response from farmers. She says viewers have been impressed with the realistic take on their industry, neither demonizing them nor praising them too much. She also appreciated her hosts' willingness to talk candidly about difficult subjects like farm succession. "The farmers really opened up, and I take that trust very seriously," Haaken says. "I am protective of and wanted to be responsive and responsible to the trust they extended to me without sugarcoating anything."
Haaken says reviews from non-farmers have also been very positive. "The film challenges easy conventional pictures of either side of the issues around dairy farming and really draws you into the complexity of the work itself and how much farmers are a part of struggles in the modern world," she says. The issues of needing to grow to match the economy in order to survive and the eternal struggle between balancing traditions and innovation are realistic parts of the dairy world that are often missed by outsiders.
Milk Men was picked up by Gravitas Ventures, an independent film distributor, and is now available to view online. You can also visit the Milk Men Facebook page.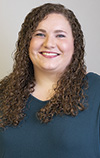 Carrie Veselka

Staff Writer
Progressive Dairyman
PHOTO 1: The Milk Men documentary offers an in-depth look at the real world of dairy farming and the struggles that farm families face.
PHOTO 2: Jan Haaken interviews dairy farmer Alan Mesman on his 100-cow dairy farm in La Conner, Washington.
PHOTO 3: Milk Men focuses on issues like farm succession, growth and how dairy farmers really feel about their cows. Photos provided by Jan Haaken.