Progressive Dairyman recently asked a sampling of dairy farmers how bad milk prices were hurting their farm. The phone / email interview survey was conducted in March.
Farmer-readers were provided with the following pain scale often used to gauge pain in human medicine and asked: "How bad are milk prices making your farm hurt right now?" We then asked each participant what could make their pain improve by one score or what could make it worse by one score. All farmer scores and their responses have been anonymized.
A common theme developed during the surveys: Farmers to the left of the middle of the pain scale had some or all of their milk forward contracted at higher milk prices than were currently offered in the market. Their protection might last as long as six months. Most of these producers hoped that prices improved by then.
Farmers to the right of the middle of the scale usually didn't have any milk price protection. Those toward the extreme right, often had more debt going into this low milk price cycle, for one reason or another, than they would like to have.
Generally, farmers reported feeling discouraged and frustrated; none of them were wearing a full smile. Many said current milk prices have taken the fun out of dairying.
We thank the farmers who were willing to open up about this sensitive subject. We offer it up to readers who are curious how their own situation might compare with those of others. We hope it offers some consolation during this difficult time.

Click here or on the image above to view it at full size in a new window.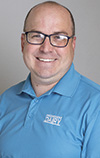 Walt Cooley

Editor-in-chief
Progressive Dairyman