A prominent U.S. presidential campaign issue, President Donald Trump frequently identified the North American Free Trade Agreement (NAFTA) as an economic drain on the U.S. economy. Trump administration officials have started the clock on renegotiating the trade agreement, beginning as early as mid-August.
With heightened political rhetoric, NAFTA renegotiation has also attracted attention in Mexico. The 25-year-old agreement between the U.S., Mexico and Canada was a topic of concern during the 2017 Expo Leche GILSA, held May 4-7 in Aguascalientes, Mexico. The event was hosted by Grupo Industrial de la Leche S.A. de C.V. (GILSA), a diversified agriculture cooperative that includes a dairy cooperative and finance, feed, farm equipment and farm supply branches.
Although there are many challenges to doing business in Mexico, agricultural trade officials say the opportunities far outweigh the risks. Jose Vidal de Anda Gonzalez, GILSA president, warned NAFTA renegotiation creates uncertainty for agriculture.
"Maybe renegotiating NAFTA is a good thing; we do not know," he said. "Today, I understand that NAFTA is a good agreement for everybody. As for the part of agribusiness, it is very good for the United States. Maybe the people in the car industry say it is not good; maybe the people in organized labor say it is not good. A reorganization of NAFTA would be very bad for people in the U.S.A.; farmers sell a lot of corn and soybeans here to Mexico, and the people in the U.S.A. will have to pay more for their cars and other consumer goods if NAFTA becomes a thing of the past. If Mexico goes out of NAFTA, the United States loses. I believe if NAFTA is renegotiated, it is important to look at all the parts of the agreement, and if the reorganization is not good for everybody, it is best to leave it as it is."
Ben Brancel, secretary of Wisconsin's Department of Agriculture, Trade and Consumer Protection (DATCP), attended the GILSA Leche Expo for the third consecutive year, meeting with agricultural leaders to discuss challenges faced by the dairy industry. During the expo, DATCP has hosted a booth for the past three years in a joint venture of various Wisconsin dairy supply businesses seeking business growth opportunities in Mexico.
Brad Ingram, global hoof and dairy direct manager with Animart, said his recent trip to Expo Leche proved to be enlightening, and he looks forward to serving the dairy community in Mexico and Latin America. "Our neighbors to the south have a lot to be proud of with dairies that are very well run and have happy, healthy and productive animals. The hospitality shown was remarkable and I look forward to working with the dairymen and women of Mexico."
"Agriculture here in Mexico is very afraid that ag will be given up if NAFTA is renegotiated," Brancel said. "They have a real concern they will be sold out by their political leadership. Ag in the United States is very concerned about the loss of NAFTA, as are the farmers here in Mexico. The proponents of NAFTA give you one view, and then the critics of NAFTA ignore that element and then talk about their view. The proponents are from the world of agriculture, and they talk all about ag and the value it provides. Organized labor talks about how terrible it is; they ignore the element of ag and use a different segment in their arguments."
Mexico is the largest export market for U.S. dairy products, a fact repeatedly emphasized by U.S. Dairy Export Council (USDEC) President and CEO Tom Vilsack.
Read: The U.S. Dairy Exporter Blog: For World Milk Day – Economic Facts About U.S. Dairy Exports to Mexico
"I wonder whether our friends and neighbors understand that dairy exports represent a 15-billion-dollar impact on the economy," Vilsack said during USDEC's spring board meeting. "I wonder if the nearly 100,000 folks who are employed as a result of dairy exports understand and appreciate the link between their job, their livelihood, their ability to support their families and the hard workers who are in dairy operations and in facilities that are processing and producing product across the country."
Mexico a land of extremes
Mexico is a land of extremes with high mountains and deep canyons in the center of the country where the "dairy oasis" is located, to deserts in the north and dense rainforests in the south and east.
According to the USDA Foreign Agriculture Service, Mexico's commercial fluid milk production for 2017 is forecast at 12.2 million metric tons (MT), or about 27 billion pounds, up slightly from 2016. Through better genetics and improvements in milk and feed quality, Mexican dairy farmers are positioning themselves to increase domestic production to capitalize on consumer demand for dairy products. Dairy processors are gearing up to handle the increased production with the expansion of existing facilities and the construction of new plants.
The dairy industry in Mexico is also diverse, including small independent farms milking a few cows by hand and delivering their milk in cans on the back of a pickup truck, to large modern dairies with rotary parlors that directly ship their milk with their own tankers, and vertically integrated farms that process their milk into cheese.
Like the beautiful native bugambilia flowers that thrive in the harsh climate, the dairy farmers of Mexico are fearlessly independent and are finding ways to improve and expand their businesses. With their diversity, NAFTA's impact has also been diverse.
"The problem here for the last three years is that the United States has sent a lot of milk powder here that has upset our supply system and our dairy industry has been very difficult," said Caro Vidana Gonzalez, a first-generation dairy farmer who left the textile industry to start her own dairy farm.
Producing milk for the San Jacinto cheese company, Gonzales wants to expand her dairy herd, but has been told she must ask permission from the cheese company before increasing production. Nonetheless, she's fearless when it comes to facing the challenges and looks toward the future with optimism.
Mexico has been a major buyer of female dairy cattle replacements from the U.S. and Canada. The Mexican peso's current low value in comparison to the U.S. dollar, along with the declining sense of partnership between the U.S. and Mexico, has stalled the cattle trade.
Two dairy producers who have imported cattle from the U.S. and Canada in the past are now focusing on herd growth from within.
Ramon Perez, owner of Las Jarillas Dairy, said the large Canadian cattle do not work well in his facilities. Godofredo Alba Romo, a veterinarian whose family partnership owns and operates Agropecuaria Potrero del Refugio (a 300-cow dairy in Bajio de San Jose, Jalisco, shipping over 80 pounds per cow per day with a SCC average below 150,000), has imported heifers three times from Missouri and Idaho during herd expansions. He said cattle stress during transport as well as altitude, climate and disease challenges in Mexico cause culling rates of imported cattle to be high.
Alba Romo said milk price is the primary challenge facing Mexican dairymen.
"We have a large market. We need to have better marketing systems with more and better promotion; we need to improve management and take care of cattle comfort; and we need to increase milk production by improving forage production with better quality and more quantity," he said.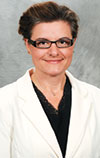 Somula Schwoeppe

Dairy Producer and Freelance Writer
Huntingburg, Indiana
PHOTO 1: Beautiful palm trees and bugambilias are part of the scenery at Mexican dairies.
PHOTO 2: A Canadian cow, second from left, dwarfing her herdmates on the carrousel at Las Jarillas Dairy.
PHOTO 3: Mexico's commercial fluid milk production for 2017 is forecast at about 27 billion pounds. Photos by Somula Schwoeppe.