The news earlier this summer that Amazon is purchasing Whole Foods struck the food industry like a thunderclap. The one-time trendsetter in natural and organic food retailing is now being swallowed up by an even bigger disruptive force in e-commerce retailing.
How will the brick-and-mortar grocery industry be further changed by Amazon's quest to expand its empire beyond that of online sales, and what are the implications for dairy farmers? We'll need more time to see how the situation plays out, but one thing is clear: The evolution this will bring about in food marketing will create a variety of repercussions throughout the value chain.
Or, as Whole Foods Chief Executive John Mackey said recently in the Wall Street Journal: "Things are gonna change. There's just no question about that."
One clear impact even now is: Legacy food brands – those established, blue-chip food companies that use branding muscle to dominate store shelves at retail – are very nervous about their future sales power. The stock prices of many such companies, including Mondelez, General Foods, Kraft Heinz and Campbell, took a big hit after the Amazon/Whole Foods deal was announced.
Amazon's foray into grocery retailing is expected to force high-margin food brands to give up some of the margin premium they've enjoyed. The retail behemoth clearly thinks it can squeeze price concessions from suppliers wanting access to its burgeoning online food marketplace, just as Walmart has done with many of the product suppliers with which it does business.
The other concurrent trend in retailing is: Low-cost, plain-vanilla stores are disrupting the traditional U.S. supermarket model as they move into key metropolitan areas. That invasion was first led by Trader Joe's, but now German-based marketers Aldi and Lidl have aggressive timetables to build up their presences in America and take market share away from major regional store brands, just as they've done in Europe.
These deep-discount upstarts follow a model that de-emphasizes branded product offerings in favor of no-frills, private store labels, offered at lower costs than the more traditional high-margin brands.
One Aldi in northern Virginia has been offering its private label milk at 96 cents per gallon this summer – down from $1.15 earlier this year, even as the underlying Class I price has risen. Clearly there's no expectation of profit from the milk case for at least that one store.
All this is happening as evolving consumer shopping preferences are also rocking traditional retailers. The center of the grocery store – the home to many processed foods offered by the big-name legacy marketers – has become a virtual dead zone, as shoppers prefer to cruise the store perimeters featuring fresh foods, or at least higher-margin perishables and meal kits, that can be quickly purchased and consumed at home.
Foods in cans and boxes are not on the shopping lists of many of today's younger consumers, whether they're shopping in-store or online.
So what are the implications for farmers? The dairy sector has benefited from an emphasis on offerings perceived as simple, healthful and natural. That's good for makers of yogurt, natural cheese and butter, and even whole milk's popularity is rising despite the overall continued slump in the fluid milk category.
But the darker side to the push for simple foods is the marketing trend emphasizing "clean" labels. It's an ironic description, since many of the labels are actually cluttered with dubious absence claims, such as "no artificial hormones," "no antibiotics used" or "no GMOs."
These unfortunate appeals to consumers' lack of understanding of where their food comes from haven't had much success in growing sales – the fluid milk market is still shrinking, despite the ubiquity of "no hormones added" and other fear-based labels, in the past decade.
Nevertheless, they're a trend pressuring dairy producers to adopt farming practices that ultimately could be counterproductive to providing an affordable – and more critically, sustainable – food supply.
The other obvious implication is: There will be a continued shakeout, and consolidation, of both processors and retailers. We've witnessed significant recent merger activity among the legacy food processing companies, and the same is likely to affect retailers battling competition both from upstarts and the new Amazon food delivery business model. This means the value of name-brands may shrink even further.
Fortunately, the underlying value of high-quality, fresh dairy products – whether they feature famous brand labels or just a generic store description – should keep consumers coming back to purchase dairy foods, whether they're shopping with a metal cart or one steered by a computer mouse.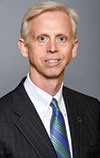 Jim Mulhern

President and CEO
National Milk Producers Federation
Board member profile
Doug Nuttelman
Doug Nuttelman, from Stromsburg, Nebraska, has been on the NMPF board for over 10 years, starting in 2006. He became an NMPF officer in 2011 and now serves as the board's assistant secretary.
Doug's farmland has been in the family since 1908, with his father-in-law having started the dairy in the 1960s. Doug and his wife took it over in 1986 with just 40 cows. Today, they and their three sons milk 250 cows and raise 2,000 Holstein steers. A board vice chairman of Dairy Farmers of America (DFA), he also is chairman of DFA's Central Area Council, which comprises 11 states in the Midwest.
Since 1995, Doug has been involved with Dairy Management Inc., the promotional arm of the industry. He served two terms on the National Dairy Board and two terms on the board of the United Dairy Industry Association. He currently serves the Nebraska division of Midwest Dairy Association.
The following update is provided by National Milk Producers Federation (NMPF), based in Arlington, Virginia. NMPF develops and carries out policies that advance the well-being of dairy producers and the cooperatives they own. The members of NMPF's cooperatives produce the majority of the U.S. milk supply, making the federation a prominent voice of dairy producers on Capitol Hill and with government agencies.